Andrew WK recruits an X-Man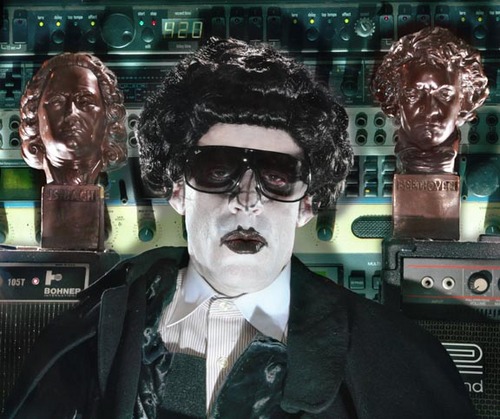 Andrew WK has a new partner in partying.
Gig City caught up with the Party Hard hitmaker backstage at the Pawn Shop Friday night as he rolled through with his mysterious new protégé/collaborator Aleister X to give Edmonton a show like no other.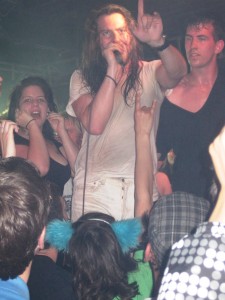 Flashing a warm smile, Wilkes Krier assures us he still loves to party and promises his next full-length album, in the works for an early 2012 release, will reflect that in grand style.
"I partied a lot since the last album, and you always apply what you learn, you know? So I feel like I have a lot more under my belt. As I said, I just have met more people and have experienced levels of partying that exceed anything I've done before," he says.
"You always want to keep pushing forward, you always want to outdo yourself."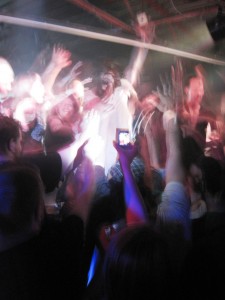 Andrew WK's wildly energetic stage show offers an unmatched party vibe.
The man in white takes the microphone alone as a backing track blares through the speakers, and invites everyone in the house to join him on stage to help him belt out his unrelenting good-time anthems.
Caught in a sea of local partiers Friday night, Andrew WK ensured everyone was moving until he left the stage.
"The reason I chose this word party, and this idea of partying to make my centerpiece, is because it's freedom. It's freedom and joy combined – the freedom to do what you want, what makes you feel good, and celebrating whatever you want to celebrate," he says.
"Maybe for some folks it's going to a certain place, hanging out with certain people, drinking alcohol – or not; doing drugs – or not; eating certain food – or not. I would never tell someone how they're supposed to party, 'cause that's not a party vibe.
"It's pure freedom, that's all partying is."
Despite allowing strangers to join him on stage, Andrew WK never had a co-writer until finding a kindred spirit in Aleister X.
The cloaked, corpse-painted Aleister X – who was born in India, raised by Brits, and has lived nearly everywhere – signed to Andrew WK's record label, Steev Mike, and has been writing with Wilkes Krier on the party master's own upcoming album.
Aleister's darkly humorous, hip-hop oriented electro style stands in bizarre contrast Andrew WK's perpetually white clothing, and sense of  joy and celebration. Unfortunately, those differences led to some heckling from humorless dolts at the Pawn Shop Friday, though Aleister stood his ground.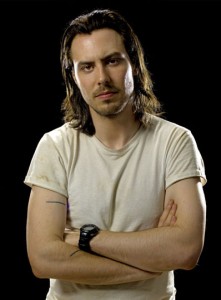 "My music is a totally different vibe than Andrew's (vibe of) total positivity – which (is important) to me as a friend. Because any positive influences I can get, I need them," Aleister says through a British accent. "I'm a very negative person."
Wilkes Krier says Aleister understands the party vibe, and acknowledges the eccentric singer has helped him recognize his own dark side.
"Aleister has (influenced) me a lot when it comes to fashion and style. Whenever I see him, he always looks cool," he says. "I've been wearing a lot more black since I met him, to balance out the white for me."
Between pouring mixed drinks, Aleister X says he likes to party, but "in my own individual way, which involves … a much darker scene."
Andrew WK has immensely expanded his resume since breaking into the mainstream with his 2001 album I Get Wet, featuring his iconic bloody-nosed CD cover photo.
When he's not making music, he travels to colleges and universities as a motivational speaker, hosts his own TV show Destroy Build Destroy on the Cartoon Network, and runs a nightclub in New York called Santos Party House.
Whether through his lyrics, his Twitter account or his recent advice show on CBC Radio 3, Wilkes Krier continues to push partying as the solution to all of life's problems.
"I've learned a lot over the last three years about joy. The past five years have had their ups and downs personally, and business-wise. It's always been good, we've always survived, but going through those harder moments makes you prioritize, makes you take stock of what really matters to you," he says.
"Being in a state of joy, and creating that and providing that for other people, has never been more important to me than now."