REVIEW: The misadventure of Lauryn Hill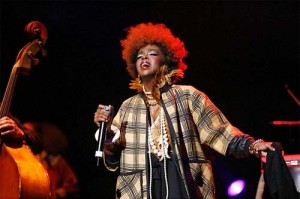 Free advice for Lauryn Hill: Fire your soundman. Fire your bass player. Fire your drummer. Keep your backup singers.
And for God's sake, please chill out just a wee bit.
These are really the only conclusions a discerning music fan can draw from Hill's terribly disappointing show Saturday, May 28 at the Edmonton Event Centre. Expecting super-funky happenings from this multiple Grammy winner, expecting world-class soul on the level of Prince with Maceo Parker – high expectations, yes – what the fans got instead was a shrill, sloppy show that had only style what it sorely lacked in the substance of groove.
One problem was sound quality that was pure "wall o' mud." Other shows in acoustically-worse buildings haven't been this bad. There were reports that Hill's Calgary show suffered from the same thing, so we don't want to blame the Edmonton Event Centre this time.
It was painful to watch. Hill practically vibrated with nervous energy as she and band raced in a headlong rush through material from her days with the Fugees and from her acclaimed solo breakthrough The Miseducation of Lauryn Hill. It's as if they were in a hurry to get out of there, though they sure took their time getting on stage (at almost 12:30 a.m.). Punctuated by many insertions of the word "Edmonton," Hill deployed rapid-fire raps that established her cred as a first-class rapper, and sweet soul riffs that showed off her gifts as an R&B vocalist. Eat your heart out, Mariah. Hill's songs are interesting, a cut above the usual in the genre, infused with reggae and soul and heartfelt, empowering lyrics. She truly is a triple threat.
Her band didn't even begin to do her justice. They couldn't find the pocket in a pair of cargo shorts. They sounded like a hack rock band making an awkward attempt to be some kind of cool reggae-soul group. They barged their way through arrangements riddled with shots and bombs and impressive blats from the horn section (members of the opening act, the Hot 8 Brass Band), displaying plenty of spirit and oomph, but missing that one really important element in this sort of music: a tight groove.
Shall we give them the benefit of the doubt and say that because their monitors were probably terrible, too, they couldn't hear each other and so were simply doing their best not to let the show come to a grinding halt? No. The singers didn't seem to have any problem. The bass player and drummer were on opposite ends of the stage, hammering away joyfully and apparently oblivious to their shortcomings. Now we all know a live band in the hip-hop genre is considered a special treat – at least it was 10 years ago – but in this case, canned beats would've been preferable. Not sure what the DJ was doing up there.
It's inconceivable that an artist of Hill's stature would tolerate this situation. She won five Grammys for The Miseducation of Lauryn Hill in 1998. FIVE! This is a world-class artist. Maybe that's why she seemed so manic on stage. There was a lot of incoherent shouting and flapping of arms going on. Whether she was giving cues to her band or desperately signalling the soundman for better sound in her monitors wasn't clear.
Practically every song was too fast, too rushed, too cluttered. There was no subtlety and no space left to let the music breathe on its own. Especially glaring were the covers, a reading of Bob Marley's "Is This Love" that had none of the original's easygoing vibe, and the Flamingos' "I Only Have Eyes for You" – interesting choice. It was a smoky soul ballad once, wasn't it?
There were certain other annoyances to get past. The opening band was another interesting choice, the aforementioned eight-piece New Orleans brass band that sounded like a cross between the Dirty Dozen Brass Band and the winner of the Hippest High School Marching Band contest. They had a giant tuba. Their amplified sound was awful, too, and they took at least two songs to really warm up – but since each was about 10 minutes long, the set was half-over by then. It got tedious. One saving grace: Their drummers (one on bass drum, one on snare, like a marching band) grooved a lot better than the headliner.
Then there was the infuriating wait for La Diva Her Own Bad Self: Doors at 8, opener starts at 10, headliner hits the stage at 12:30 a.m. Is this usual? Is it a hip-hop tradition to make your fans wait so long? Are we supposed to get so drunk that we won't notice the bad sound or the lack of groove or the feverish tempos and cheer the star just because she actually shows up? Hard to know. But if fans don't get the real thing from these supposedly world-class hip-hop stars, they're not going to know it when they hear it. Scratch that: You know it when you hear it – instantly. And this show didn't have it.
Let's just call it an off night.