Rise Against returns to rock Rexall Oct. 8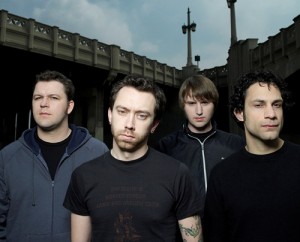 Again we ask a musical question: Rise Against what?
Why, everything, of course – and we have a dandy subject for a WHO NAMED THE BAND feature when the mainstream punk band (not an oxymoron) returns to Edmonton, at Rexall Place on Saturday, Oct. 8 with Flogging Molly and the Black Pacific in support. Tickets are 59.50, $49.50, $42.50 or $39.50 and go on sale Saturday, June 4 at 10 a.m. at Ticketmaster.
Last time through town, Rise Against drew 7,000 to Rexall, not too shabby for a band whose music doesn't often get played on top-40 radio – but that may change. The Chicago foursome's new album Endgame debuted at No. 1 in Canada, where they are hugely popular among fans who consider there being something in our society to rise against. Hey, don't try too hard. This sort of thing often happens naturally as those in the establishment, the "Man," get old and die. In 20 years, bands like Rise Against and their fans WILL be the mainstream.
For now, rebel at will. This band, whose strong-willed political leanings (PETA, straight-edge, anti-war, you name it) may even be the envy of Bono, got its start on the famous Fat Wreck Chords label before rising to the notice of the masses with such songs as Help is on the Way, written about the Hurricane Katrina disaster he saw the effects of in New Orleans, but could be about any global disaster.
And we quote: "Five thousand feet below, as black smoke engulfs the sky. The ocean floor explodes, eleven mothers cry. My bones all resonate, burning lullaby, you can't take that from me. Just go ahead and try."
Not sure what meaning to read into that: The guy wants to hold onto the feeling of his bones resonating in a burning lullaby caused by the ocean floor exploding and mothers crying? Hard to know – especially since singer Tim McIlrath usually delivers his words at the level of a scream over a raging twin-guitar assault at 240 beats per minute. Some of these bands could really use some surtitles, like they have at the opera.
Just a thought. We're here to help.