U2 fever sweeps Edmonton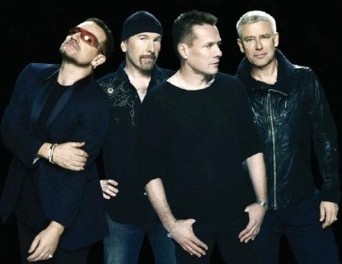 The floodlights are on at Commonwealth Stadium. They're building something that looks like the timewarp machine from Contact. Is Jodie Foster coming?
Something's going on. You can feel the excitement in the air, the local media has gone on full paparazzi alert, fans are staking out the Fairmont Hotel Macdonald, the TV weather forecasters are carefully watching the low pressure systems that aren't expected on Wednesday, June 1, radio personalities are falling all over themselves with the unbridled joy of a horny virgin on her wedding night, even the local council-men are all atwitter over what everyone is already calling "the Concert of the Decade" even though it hasn't happened yet.
So, some band is playing here or something?
Yes. U2 fever has hit and it's contagious. Citizens of Edmonton are urged to proceed directly to the inoculation centre for a U2 shot in preparation of the band's concert on Wednesday, June 1 in Commonwealth Stadium, with the Fray opening. U2 is a famous Irish rock band known for powerful rock anthems that sound good in a stadium and a frontman who's some kind of amazing world-saving superhero. U2's 360 Degrees tour is a $35 million wad of production that includes a giant spider, a humongous elasto-morphing video screen and a massive, moving "in the round" stage, on which Bono and the Other Guys will perform their impressive catalogue of stadium-ready anthems. Sunday Bloody Sunday is going to be HUGE. And we're run out of synonyms for "very large." You don't do it small when you're this big.
U2 is touring behind the new album No Line on the Horizon, and Bono and the Edge are probably glad to get away from New York for a while, where the problem-plagued Spider-Man Musical is opening on June 14.
Is the U2 concert sold out? Ha, ha, ha! No. Tickets run from $40 (bring binoculars) to $300 or so and are still available at Ticketmaster here. Fans are asked to wear red and white to support some kind of red and white-themed charity initiative.
We're happy to do it! Anything for U2 fever.