CONCERTS: Tegan and Sara get intimate July 6, Daniel Tosh adds show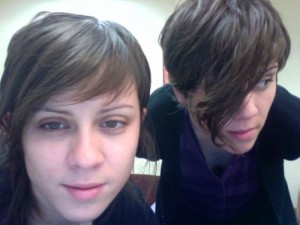 Here's a show that's going to sell out in the blink of an eye – Tegan and Sara at the Myer Horowitz Theatre on Wednesday, July 6.
Well, maybe: the big discussion online yesterday was whether the $75 the pair are commanding for tickets was highway robbery.
The twin sister goddesses of alternative rock from Calgary did two shows at the Jubilee Auditorium in 2010, so this is rather like a case of the Tragically Hip doing a club show. Huge buzz, small crowd. The Myer Horowitz theatre, located in the Students Union Building at the U of A campus, holds about 600 people. Tegan and Sara are said to want an "intimate" show this time.
The audience will even be able to talk to the performers in a Q&A component afterwards. Every fan will receive a free poster, too. Tickets go on sale to the general public on Friday at 10 a.m. through Ticketmaster. A limited number of "VIP" tickets will go on sale at Tegan and Sara's website on Thursday, June 2 at 10 a.m., conferring upon 30 lucky fans attendance at soundcheck and a meet 'n' greet plus a signed poster – and everybody gets a new car!
Not really. We sure do miss Oprah.
No word on whether Tegan and Sara will add shows due to expected overwhelming popular demand – but Daniel Tosh has. The outrageously honest comedian will now be doing two shows at the Winspear Centre on Monday, Aug. 8, one at 7 p.m. and one at 10 p.m. He will "work blue" in the late one. Come to think of it, he's likely to let it fly at the early one, too. In other words: Not suitable for children.
Tickets are $35 and $45 and on sale NOW. Call 780.428.1414 or visit the Winspear website.