Cyclists lament hard time peddling Edmonton nude ride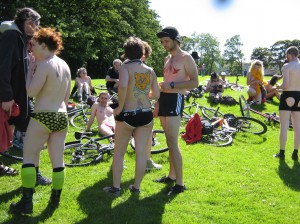 For the last few years in early June, TV, radio and newspaper reporters in Edmonton have telephoned local bicycle organizations, wondering if there will be a naked bicycle parade somewhere in the city.
The annual World Naked Bicycle Ride, which is intended as a protest against car-centred culture and to promote bicycle transportation, routinely makes national and local newscasts with video of thousands of nude bike riders gliding past international landmarks. So it's understandable local editors are eager to know if such an event will be happening here.
But there never is one.
Despite the fact Edmonton hosts an event-packed month of bicycle events in June, and even though naked bike rides have popped up in other Canadian cities, cyclists here are keeping their clothes on.
Even Drumheller had one, drawing close to two dozen riders in 2009.
"It's partly because no one has organized it. People are really apprehensive about having a naked event. Especially one that's so public," explains one local cyclist who says she's discussed the idea of a naked bicycle ride with friends.
"People think, 'What about cops?' It's finable, and arrestable, and these are real consequences."
The law surrounding public nudity is somewhat complicated and is covered in sections 173 and 174 of the Criminal Code. Section 173 makes it an indictable offence to expose one's "genital organs" for a sexual purpose in a public place to a person under the age of 16.
Section 174 states that public nudity is an offence punishable on summary conviction, defining nudity as being "so clad as to offend against public decency or order." However, the Code states that no proceedings under the section shall be undertaken without the consent of the Attorney General.
Courts in various provinces have ruled that accidental nudity, or even streaking, can be OK, and that nude sunbathing at a beach may be alright, too. But a court in Ontario has yet to decide on whether Brian Coldin, the operator of a naturist resort, is guilty of violating the public nudity law for allegedly driving up to a Tim Hortons and an A&W and paying for his orders at the drive-thru window while starkers in 2009.
(Jessica Swift, an employee at the A&W in Bracebridge, Ontario wept on the stand as she described the ordeal of serving Coldin as he sat in his car.)
Coldin's lawyer, Clayton Ruby, has attempted to argue Canada's nudity laws are unconstitutional.
Arrests at World Naked Bike Rides are rare, bur most cyclists she knows are worried more about issues of modesty than legality.
"There's this big taboo about being nude," says one female rider, noting she went topless in Edmonton's Pride Parade last year and has participated in naked public swims in the city.
"Nudity is directly related to sex, but being nude is healthy," she continues. "I like riding my bike and I like being nude."
"Being nude in a room full of people, you realize that everyone looks kind of the same. I find there's something empowering about being nude."
Micah Cooper, an Edmonton cyclist who rode in the World Naked Bicycle Ride while she was on holiday in Edinburgh in 2008 , also laments that the city lacks a nude cycling event.
"We're pathologically shy and we don't want to go around naked where we know everyone," Cooper speculates about why there's never been one here.
She admits if there was one in Edmonton, she might be too shy to be completely naked. She also worries about what she might do if police took action.
In the Edinburgh ride (in the pic at top right), Cooper says police officers on bicycles prevented the several dozen cyclists who participated from being completely naked.
"One woman's wrap came off. She was clutching it with one hand saying, 'Oh dear.' She was naked underneath. One of the bike cops rode up to her and said, 'Could you put that on right away?'" Cooper says.
"For some girls whose boobs were small enough, they put tape over their nipples. I wore a bra and underwear."
This year, most cities in the northern hemisphere that have World Naked Bicycle Rides will have them on Saturday, June 11. There is no word if anyone in Edmonton who is organizing a World Naked Bike Ride in the city.
The weekend conflicts with the Pride Parade on June 11 – so some cyclists say they may topless at it and kill two birds with one stone.
Still, she feels it's a shame Edmonton is left out.
"The cyclists I know here are into doing wacky events," says the cyclist. "Things out of the ordinary. There is this sort of radical bike culture that I really like and would like to foster," she says.