Pride parade details shape up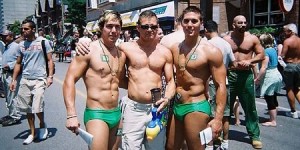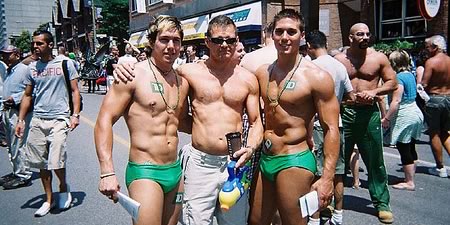 Everyone loves a parade – especially when it's gay.
And we mean that in every sense of the word.
Let's face it, it's an increasingly inclusive world for a whole bunch of sensible reasons – you know a gay pride parade is mainstream when its accompanying public festival is sponsored by a bank (thus the tats in this shot from last year).
In this case, that would be the Celebration at the Square after the pride parade, Saturday, June 11, sponsored by TD Bank Financial Group. Pride week itself starts June 10.
Other events throughout the week include a Pure Pride Dance Party on Saturday, church services, sports, a PFLAG gathering, Queer History bus tours, a film festival, Pride Youth events, and the Mayor's Pride Brunch.
Expect the usual collection of interesting costumes and equally interesting people. But mostly expect people being happy to be themselves, without being judged, a fairly admirable pursuit on any fine Edmonton summer day.