Gene Simmons to talk our ears off Aug. 6 at the River Cree – for $80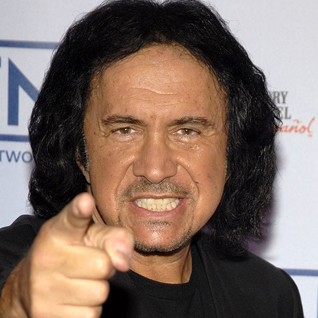 So KISS snubs Edmonton for Fort McMurray (July 2, story here) and all we get is a lecture from Gene Simmons?
Hey, we'll take it! The legendary KISS bassist is also an accomplished raconteur – so we're excited that the man of the big tongue in more ways than one will be doing a spoken word show at the River Cree Casino on Saturday, Aug. 6. Tickets are $80 – never let it be said the Gene Simmons won't cut himself a sweet deal – and go on sale Thursday, June 9 at the River Cree. Click here for online sales. There are also special VIP Couples package available for $299 each, that confers upon the lucky ticket-holders not only a pair of choice seats, but a cocktail reception and meet 'n' greet with Gene himself.
Facebook users are further privileged to be offered a "pre-sale" to the on-sale. Starting Monday, June 6, simply join River Cree's Facebook group here.
Star of rock stage and small screen, Gene Simmons has proven to be a force of nature. We don't need to talk about KISS, which, in that magic decade of the '70s connected with millions of teenagers with a potent combo of disco and heavy metal and setting a very high bar for arena rock spectacles ever since. Simmons never took drugs, but it is said he slept with nearly 5,000 women – so two out of three in the sex, drugs, rock 'n' roll trinity ain't bad. Perhaps looking more frightening without the make-up, Simmons became even more more widely-known the star of the successful reality series Family Jewels, now taping its seventh season – with a more appealing family than was found on Ozzy's show. Even before that, demand for Gene's motivational public speaking engagements grew as he became a sort of rock n roll Tony Robbins.
Herewith, a few samples of his bon-mots:
"I wanted to be in the band who didn't look like a bunch of guys who should be in a library studying for their finals.
"I'm forbidden fruit. Once you go to certain households, mommy doesn't want you to see that dirty man who sticks his tongue out and spits out blood and all that stuff.
"Life is too short to have anything but delusional notions about yourself.
"When you really think about it, I'm not delusional enough to think that what I do is important to life as we know it on this planet. No. But neither is what you do."
Thanks, dad!