Edmonton connects with Africa's best at one-day gala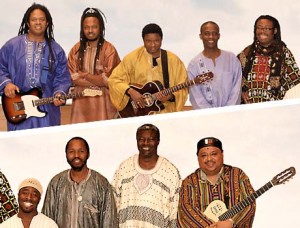 It's one of the most mindblowingly cool nights of entertainment and arts this city has to offer and, in a way, perhaps the most quintessentially Canadian event E-Town could stage. It's not high profile, but there's more on offer than at a lot of festivals.
OK, so it must be brutally obvious we're talking about … Africa Connect, In celebration of the United Nations International Year for People of African Descent. It takes place all day June 18.
Yeah, with a title like that you half expect a series of progressively dry speeches by UN functionaries. And to be honest, the mayor an members of council are going to be there. In the interests of international relations, we expect they'll be brief.
After that, things get cooking, with a dance and performances from African Guitar Summit and reggae stalwart Jampara. The former is an Afro-Canadian guitar supergroup formed for a pair of CBC recordings. They've stuck together, won a Juno, and are touring nationally to much acclaim (and tired feet.) Jampara is a veteran of three decades of reggae and has recorded with the Wailers and other reggae greats.
The event actually starts at 11 a.m. with Hall D at the Edmonton Expo Centre, 7515 118 Ave. converted into a giant cultural marketplace, with craft sales, entertainers, and arts workshops.
The bar opens at 5 p.m., there's a Gala Dinner at 6:15 p.m., and then the bands kick off.
So, what was that stuff about it being quintessentially Canadian? Well, I'm lucky enough to visited Africa many times, to nations like Algeria, Libya, Ghana, Togo, Gabon, Angola and Namibia. And the image we have of the continent, of a simple people constantly torn by political enmity, is such a false and unfair one.
Africa is complex and multifaceted, not simple. It's made up of multiple cultures, thousand-year old social traditions, a heady mix of animist, Islamic and Christian beliefs….. and a whole lot of other things that are also reflected in Canada's multicultural mosaic. It produces great artists, engineers, poets, musicians and leaders, and its people find strength in family and community.
Here, as there, the divisions that can be wedged between community elements are exploited politically.
The principle difference is that after 400 years of foreign colonial oppression coming to an end over the last half century, Africa is faced with rebuilding social ethics and stability among its leader class, which achieved nearly a century of success against colonialists down the barrels of machine guns.
And so, African people move here, not merely to escape the violence, but to be with other people who understand and respect the need for civil societies. And that's about as Canadian – and as Afro-Canadian — as you can get.
Tickets are available through Tix on the Square, here. Check out a tune from African Guitar Summit below.