GIGGLE CITY: Lars Callieou and the battle of the sexes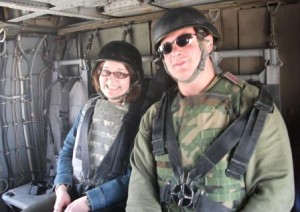 As Edmonton's own Lars Callieou awaits his first Comedy Network special, Friday, June 10 at 10:30 p.m., there's only one thing he's nervous about: "I haven't see it yet. When you guys see it, it'll be the first time I see it. I'm not nervous. Maybe I should be."
He's too busy to worry. Having just earned his eight-year badge as a professional comedian, Callieou has done pretty much all the local clubs, toured both the continent and abroad and can be seen almost every Sunday at the Druid, where he hosts a comedy open stage. He's worked most of the major festivals, recently notching his first appearance at Just For Laughs, spent February performing for the troops in Iraq (seen in this photo with Minneapolis comic Elaine Thompson) and was on the cover of See magazine in May. As if that weren't plenty, Callieou hosts a comedy show on CJSR 88.5 FM every Wednesday at midnight.
(Mature content below)
Q: If you could be any celebrity, who would it be and why?
A: Johnny Carson, because he doesn't have to get up in the morning. He's dead.
Q: Worst heckler story?
A: I always get a kick out of it when my dad comes down to the show drunk and shouts things out, like 'I fucked your mom!'
Q: Did that really happen?
A: No, it's just a joke. I remember early on my career, a female was heckling me. Now dealing with females is completely different than dealing with male hecklers. If you shut down a male heckler, he shuts up for the night. It's an alpha male thing: 'I want to prove to my girlfriend that I'm funnier than you,' so if you shut him up, he learns his lesson and stays quiet. With female hecklers, it becomes an argument. It doesn't matter how stupid you make them look. They always want to get the last word. So I had a female heckler. She was shouting stupid, drunk stuff, like 'YOU'RE NOT FUNNY!' What happened was I came down on her too hard. I think it might have been something like: 'There's probably a trailer park that's really quiet somewhere.' But the audience, instead of being on my side, because they didn't dislike her enough yet, and because I was too mean, they sided with her. So she had free rein to shout out whatever she wanted for the whole night. Basically a female heckler handed my ass. It was the worst. But I learned from that. I went home and wrote down 100 lines to deal with a female heckler. You can't be malicious. You have to get the audience to hate them.
Q: What's the difference between kids today and when you were a kid?
A: I think that's a fun one. Consider that most comedy audiences are between the ages of 18-35. It's kind of fun to talk about '80s toys and the things we did as kids. It has a shelf-life. I remember this one comedian who said this to a group in the front, 'What are you guys, the cast from Dawson's Creek?' And the 19-year-olds in the front row had no idea what he was talking about. That show ended 10 years ago.
Q: Do you have a joke that you think is close to being over the line?
A: I have a joke about getting a blow job and a girl crying that I don't do all the time. I say I was getting a blow job and the girl started to cry. My first thought was: 'Wow, she's really committed to this. You don't have to use tears. Just spit on it.' I try to stay away from jokes that are mean spirited. I have a joke where I talk about trying to flirt with this ugly girl and she shoots me down. She said, 'If you want to get with me you have to drive a Porsche,' and I said, 'Well, I could hit that with a bus pass.'
Q: Do you have a new bit that's going over well?
A: It makes it sound like my entire act is about blow jobs, but I have this new joke where I say if women proposed to men, I don't think it would be jewellery. I think the proposal would be a blow job. Instead of getting down on one knee … If it happened in a restaurant, every other guy in the place would be saying 'Oh, he's so lucky!'
A: Are all your jokes about blow jobs?
Q: I think I have three and we've discussed them all.
Q: Do you find that Edmonton has a healthy comedy scene compared to other cities?
A: There are four comedy clubs in Edmonton if you include Sherwood Park and that's two more than both Toronto and Vancouver. Calgary has three. We have the second largest Fringe festival in the world, more theatre seats per capita. Edmonton does a great job of supporting the arts. There's a lot of comics from Edmonton.
Q: Do you think all these open stages lower the bar for live entertainment?
A: I don't think that's true. If you go to a musician's open mic, you're watching the musicians polish the song. That's where they practice. So at a comedy open mic you're seeing a lot of new comedians who can't get on paid, professional shows – so there's going to be more blow job jokes.
BONUS TOP 10 LIST (more on Lars Callieou's website here)
TOP 10 SIMILARITIES BETWEEN COMEDY AND SEX:
10. When you first start doing it your goal is to last five minutes.
9. The best way to prove someone is terrible at it is to show them a video tape.
8. If there was a bar or pub involved there's a good chance it was lousy.
7. There are more men than women willing to do it.
6. Everyone thinks they're good at it. Most people aren't.
5. You've done something right if the next day someone says, 'You were amazing last night.'
4. Doing it in front of people is so much different than doing it by yourself.
3. People think it's better when someone with an accent does it.
2. It's really hard to follow a black guy.
1. No matter how original you think it is, someone has probably done it before.