Digital TV switch brings out MacGyvers, thrift store sets pile up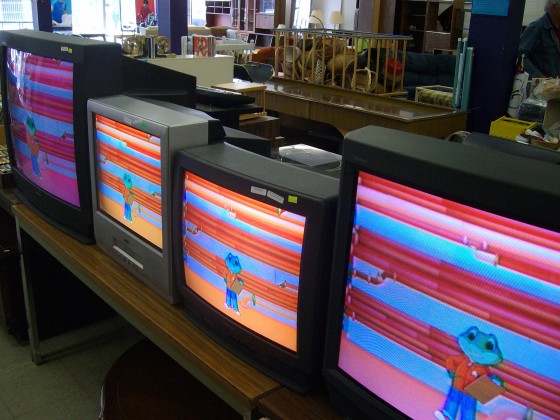 YouTube is full of TV antenna MacGyvers offering advice on how to make your own set of rabbit ears capable of receiving digital signals for when broadcasters in many Canadian cities switch to digital-only signals on Aug. 31.
And inside the engineering department at Global Edmonton, operations manager Peter Wugalter is trying them all.
There's one you make out of a coffee can. That one didn't work. But another, dubbed the two-by-four antenna and made from coat hangars, actually did the trick.
Wugalter says it's all in the name of being prepared for when viewers, who are now seeing public service announcements on all local stations warning about the impending change from analog to digital this summer, call with technical questions.
He fears many of the questions won't come until the analog signals shut off and people who rely on over-the-air TV are left with nothing to watch but snow.
"It's Sept. 1 when all the questions are going to come," Wugalter says. "There are people out there and that stuff is all Greek to them. The people who aren't prepared are going to have to get prepared."
According to a CRTC estimate in 2009, about 10% of households in Canada rely on traditional, over-the-air broadcasting for their TV, but that number drops to only 7.5 per cent in cities where the conversion to digital and suspension of analogue is mandatory on Aug. 31.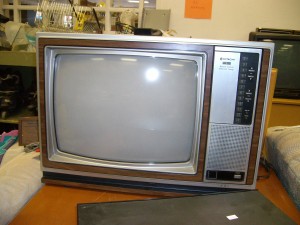 Here in Alberta, those mandatory markets are Edmonton, Calgary and Lethbridge.
A study released last month by Media Technology Monitor BBM Analytics found that a majority of over-the-air people were aware the switch is coming. But only one in four had actually taken steps to continue watching TV after it happens.
Such steps would include buying a TV capable of digital reception, subscribing to a cable provider, or purchasing a set top box converter which would allow the viewer to continue to watch digital signals on a traditional analogue television.
It didn't appear to be poverty was what was keeping most people who rely on over-the-air TV from getting ready, according to the study. Rather, they just didn't care.
"The DTV transition will impact a small group of Canadians (7 per cent) whose defining characteristic is their low interest in television," a summary of the report states.
"Based on consumer intentions, we estimate that only half the remaining off-air population will convert to digital off-air"
Set top boxes at Future Shop and Best Buy both cost $89 plus tax. It's high enough to push many consumers to purchase a new TV instead, which could be why the converters aren't exactly flying off the retailers' shelves.
Calling to ask the stores if they even have them usually requires some searching by the employees.
One salesman in the TV department at the Future Shop on Calgary Trail said the boxes might become more popular now that PSAs are running on TV. He admitted he was in the dark about the transition until he saw one of the announcements recently.
"That's how I found out about it," said the man, who wouldn't give his name.
The story was different in the U.S. when it switched to digital-only in 2009. There, the official date for ending analogue signals had to be pushed back several months when a government coupon program to help people purchase converters ran out of money.
A CRTC document links the demand for the boxes south of the border with the timing of that county's switch, which coincided with the deepening recession. No coupon program exists in Canada, which the document suggested produced an artificial price floor for the boxes, potentially benefitting retailers more than consumers.
But the document that contained that analysis also had a warning about making sure people were prepared. It said that on June 11, one day before the analogue shutoff in the U.S., the National Association of Broadcasters reported that 1.75 million Americans were still not ready despite announcements similar to those in Canada. Help line calls in the week following the shutoff were close to 900,000.
"TV stations should perform soft tests early and often by turning off the analogue signal from time to time and replacing it with a screen that says, 'If you can see this, you aren't ready for the digital transition," the document said.
Most TV stations in Edmonton are already broadcasting digital signals in addition to their analogue ones, although it's often at a reduced power and is still being adjusted.
Wugalter at Global says digital broadcasting is less forgiving, both for the transmitter and the receiver.
"I'm watching Global HD Edmonton here with a paper clip on the back of a flat screen, but if I turn it the other way, I've got nothing," he says.
Throughout the city in thrift stores, rows of old second-hand TVs are still available for sale. They aren't big sellers, staff say, but it's unclear if the people who buy them are aware of their limited use come September.
As for what to do with your old TV, don't donate it to a thrift store. They've got enough of them and they don't want them. Noreen Onisko, retail co-ordinator for Goodwill in Alberta, says small TVs with a VCR built in are OK because people buy them for their garages, but she says they don't accept TVs over 27 inches at all.
"I have three of them in my basement. You can't even give them away. I've tried on Kijiji and nobody wants them," says Onisko. "We ask people to take them straight to the Eco Station."