CONCERTS: Blink-182 at Rexall Aug. 27, Bachman & Turner at the Jube Sept. 26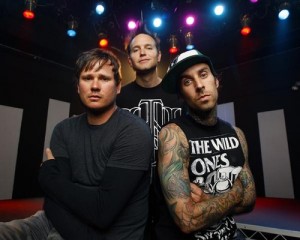 Get ready for the "Punk Concert of the Decade" – and that's enough of that nonsense.
Tickets for go on sale Friday for Blink 182's show at Rexall Place Saturday, Aug. 27. Opening will be Rancid and Against Me, which are popular modern punk bands very much in the spirit of the headliner. Blink's drummer Travis Barker was just here in Edmonton, banging away on his kit Mix Master Mike to open the Lil' Wayne show – probably the most honest performance of the night, as it turned out. With his partners Mark Hoppus, Tom DeLonge, Travis and the band are putting the final touches on a brand-new album, the first since the self-titled 2003 record (self-titling a record in the middle of a career usually signals a change in direction, but not so much in this case) and the smash-hit debut with the friendly, come-in-and-set-a-spell title Take off Your Pants and Jacket.
Don't mind if I do! It's hot out there!
Next, what was all that blather about fans of classic rock bands in a constant state of low-grade confusion not knowing who, if any, of the original members are still in the band?
This show should clear it up: Bachman & Turner with Paul Rodgers at the Jubilee Auditorium on Monday, Sept. 26.
See, it's not enough to just state the bill. You have to explain it. Randy Bachman is of course the man – one of the men – behind the Guess Who, and also BTO, which stands for Bachman Turner Overdrive. Now it's just Bachman & Turner, on cruise control, presumably, as could be heard when they played the halftime show at the Grey Cup, and will again at this gig in the fall. Paul Rodgers, meanwhile, is the man behind Bad Company but who doesn't call himself Bad Company for reasons we can't be bothered to look up. Truth be told, he will do some Bad Company songs, of course – just as BT-no-O will do BTO songs. And we rejoice.
Hope that clears things up.
Tickets to the show are $39, $59, $79 and $115 and go on sale Friday at Ticketmaster.