True Love Lies tops Sterling Awards nominations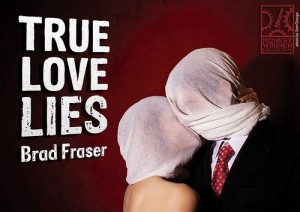 There are a few theories we can form from reading the 2010-2011 nominations for the Elizabeth Sterling Haynes Awards – the closest Edmonton gets to the Oscars for the live theatre scene.
1. The Citadel Theatre remains the king of local theatre.
2. One of our brightest playwrights is Brad Fraser, who hasn't lived here for decades.
3. Another is Stewart Lemoine, who has lived here for decades.
4. The Fringe rocks.
That's right: Stop the presses. Tell us something we don't know already.
More than just a reaffirming of the status quo or a good way for artists to gather in one place and recognize each other's achievements by giving awards to one another – this happens in every industry, not just show business – the Sterlings offer the public a window into what constitutes great theatre in Edmonton. Many members of the public have already decided with their ticket-buying money, of course, but this isn't a popularity contest.
Coming out on top with seven nominations is True Love Lies by Brad Fraser. This comedy dealing with a gay love triangle was a hit at the Citadel Theatre this past month, and scored nods for Outstanding Production of a Play, Outstanding Director (Ron Jenkins), Outstanding Performance by An Actress in a Supporting Role (we're just going to shorten these and go with "best," OK?), along with Best Set Design, Best Lighting and Best Musical Score.
From Toronto, Brad Fraser says this, "I'm not much for theatre awards in general, but I'm happy for Ron, the actors and the designers. I wish I'd seen the show."
Six nominations go to another Citadel Play called August: Orange County, another dysfunctional family comedy – ABOUT dysnfuntional families, not for them, necessarily – while the dark musical The Hunchback was named in five categories, including Best Musical with Jack and the Beanstalk (Alberta Opera), Tosca (Edmonton Opera), The 25th Annual Putnam Spelling Bee (Mayfield ) and The Infinite Shiver by Lemoine's Teatro La Quindicina Theatre company. Er, that's about all the musicals staged in Edmonton in the last year, isn't it? Not quite: Little Women, the Musical, at the Citadel, is notable for not getting a single Sterling nomination this year. Hunchback, however, was also done in the Citadel Theatre (produced by Catalyst Theatre).
Northern Light Theatre's production of the creepy drama "The 4th Graders Present an Unnamed Love-Suicide" was honoured with four nominations, including Best Play. Speaking of surreal, relative newcomer Jon Lachlan Stewart and his SurReal SoReal Theatre earned nods for Dog (Best New Play and Best Independent Production) and in the Best Fringe Play category with DEATH: Live. Fringe awards are grouped in their own category at the Sterling Awards, much like the Fringe Festival itself is in its own little world in the bigger world of Edmonton Theatre.
The complete list of nominations can be viewed here.
The 24th annual Sterling Awards gala dinner will take place on Monday, June 27 at the Mayfield Dinner Theatre, hosted by Bridget Ryan and Mark Meer. The event is open to the public. Tickets are $60 and on sale at the Mayfield box office, 780.483.4051.