WHO NAMED THE GUY? Gurf Morlix gets fired
Posted on June 8, 2011 By Mike Ross Music, The Latest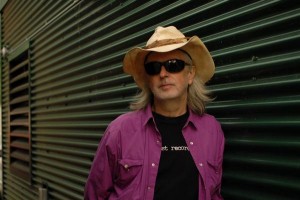 "My parents were eccentric," explains Gurf Morlix on his unusual given name.
There's not much more to tell. Sure, there were problems. Not as much as the boy named Sue, but there was a bit of childhood taunting, maybe, raised eyebrows and dumb questions, and it's hard to introduce yourself in a loud bar. But Gurf likes his name.
"Once people know it, they really know it," he says.
They sure do. Americana enthusiasts ought to know Gurf Morlix as the Austin session whiz who's worked with such artists as Lucinda Williams and Warren Zevon. Morlix is at the Haven Social Club on Saturday, June 11, performing a tribute to the late Blaze Foley. Blaze is a Texas legend – buddies with Townes Van Zandt, fond of using duct tape for social commentary, practically lived the life of a vagabond and wrote songs whose recordings mysteriously disappeared almost as soon as he made them. He was shot to death in 1989.
Morlix has been the keeper of his old friend's flame, collecting, performing and recording Foley's songs, as can be heard in the tribute album "Blaze Foley's 113th Wet Dream." There's a documentary that goes with it: Blaze Foley: Duct Tape Messiah.
Ain't exactly Nashville country, is it?
Asked to come up with a road story, Morlix trips back to 1968 when he was "in a band that got into a fight with itself on stage." He's 17, the band is called the Cherry Blend and they're playing cover tunes in some bar in Western New York State, where he grew up.
Morlix recalls, "I think we were playing Purple Haze and the bass player was getting into it and he had this leather thong that was hanging off the headstock of his bass. He was whipping the keyboard player with it. It was intense. We were just learning how to play gigs. He kept whipping the keyboard player and the keyboard player kept yelling, 'cut it out!' so he shoved him, and then the bass player kicked the keyboard off the stage and it went somersaulting down onto the dance floor, all smashed up, then the guys dove on each other and started pounding each other on the dance floor. And then we got fired."
The bass player and keyboardist made up "probably an hour later," and Cherry Blend kept going for a while, at least until Morlix wound up moving to Texas.
One other in-band conflict he's been in didn't involve fists – Morlix says he's never been in a fight in his life – but turned out to be much more damaging. The multi-instrumentalist spent 11 years in California working with Lucinda Williams, producing two of her records, but then he quit suddenly.
"It was a like a marriage that wasn't working," he says. He declines to go into gory details about what exactly happened in that recording studio for what WOULDN'T become Car Wheels on a Gravel Road, but adds, "It doesn't matter how good the music is. If the relationship isn't working, it's not worth it. It's just like a marriage. When something goes wrong, there's hardly any way to fix it sometimes. There are other people to play music with who are just as good – and it's going to be fine. That's the lesson I learned."
More than 13 years later, he and Lucinda have not buried the hatchet.
There is clearly a need for some sort of rock 'n' roll marriage counselling service, which Morlix points out was done quite thoroughly in Metallica's painful documentary Some Kind of Monster. He says he had trouble watching it.
"I've been through those kinds of things. It was pretty tough to take."
He also had trouble watching This is Spinal Tap on one occasion. Too close to the truth.
"I saw it when it came out, but then one time after a gig, I smoked some pot, which I never do and I turned on the TV and that was on and I had forgotten it. It was years since it had come out. It was the scene where the girlfriend is managing the band and I didn't realise it was Spinal Tap. I thought: this is the saddest thing I've ever seen. It was a few minutes before I realised it was supposed to be funny."