Edmonton dominates Canadian Comedy Awards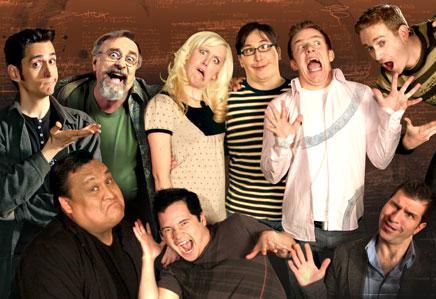 We've crunched the numbers and come to a startling conclusion that most people knew already – Edmonton is a funny city.
The nominations for the Canadian Comedy Awards that came out June 8 revealed a disproportionate weight of local comic talent, largely thanks to a core group of improvisers and the locally-produced television show CAUTION: May Contain Nuts. Said nuts include Dana Andersen, Matt Alden, Aimée Beaudoin, Sheldon Elter, Jeff Halaby, James Higuchi, Howie Miller, Mark Meer and Ryan Parker, all nominated for Best Performance by an Ensemble – Television. Miller and Beaudoin were each singled out for as best male and female, respectively, for their performances in the show.
Mark Meer, meanwhile, earned a nod in the best Male Improviser category, along with Ron Pederson – two out of five nominees from Edmonton. We likewise dominate in the improv troupe category with nominations for both Rapid Fire Theatre (which has featured both Pederson and Meer) and the Die-Nasty Live Improvised Soap Opera (ditto). Rounding it out nicely is The Irrelevant Show (Meer again) up for best radio show and "Pick of the Fringe" for best comedic play, which isn't a play but several of them, one of which may have had Mark Meer in it, but whatever, we'll take it.
Meer, busy man, couldn't be reached for comment, but he described the nominations as "rad" on his Facebook page.
If you stretch "from Edmonton" to include Paul Mather (best writing for the Men With Brooms series), who doesn't live here anymore, and Jason Priestley (best male TV performance), who may have once lived her for a week or two before he was famous, Edmonton had a very impressive showing indeed.
And while locals are notably absent from the stand-up comedy categories, at the rate things are going, it's only a matter of time.
Trophies will be handed out at the 12th Annual Canadian Comedy Awards & Festival, October 13-17 in Toronto.