THEATRE: Freewill Shakespeare Fest offers you Moor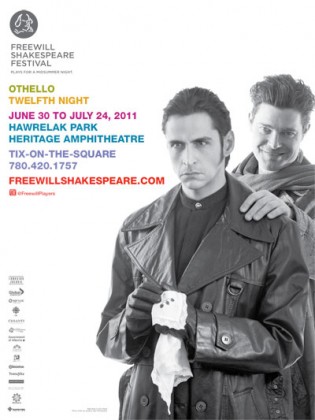 Usually in Shakespeare, the less-reputable characters are the bloodsuckers. At the Freewill Shakespeare Fest this year? Well, it's in Hawrelak Park, so you…(bzzz)…do the (thwack!) math on (smack!, damn skeeters!) that one.
Oh, get over it. Bring bug juice to the shows from June 30 to July 24 and revel in the one reason good enough to bring people to Shakespeare in the park during a mosquito season that rivals one of the great plagues of Egypt: the entire cast is mic'd for sound.
That's right, no more of this "you must project to the back" nonsense, no more straining to understand dialogue already known for its density and gravitas because you couldn't hear from row 27, seat 18.
Now, when Othello waxes paranoid over Desdimona's fidelity, you'll be able to hear him through Hawrelak amphitheatre. Now, when Viola waxes humorous in Twelfth Night, you'll be able to clearly hear ye olde english that you secretly have to admit you don't really understand.
The casts are stellar, including Mark Meer, Belinda Cornish, Julia Guy, Troy O'Donnell, John Ullyat and Annette Loiselle. Marianne Copithorne directs Othello (he's a moor, before anyone posts about the headline. It's a pun. It's not a great pun. It's not even a particularly good pun. But deliberate? Yes.)  while Bradley Moss helms Twelfth Night.
"Shakespeare in the outdoors can be a profoundly rewarding experience — the weather adds to the mood of both plays," Copithorne says. "Audience members share a communal experience with the actors onstage; both have witnessed Mother Nature at her most dramatic together, whether she doles out a perfectly still and warm summer night, a tempestuous storm, or a drizzling, foggy rain. All are possible to witness with pleasure and excitement under the protection of the Hawrelak Amphitheatre tent."
Tickets are available through Tix On The Square online, or by calling 780.420.1757. Tickets range from $15-$25 per show but there are also two pay-what-you-will shows per week during the event. Performances run rain or shine Tuesday through Sunday evenings at 8 p.m.,with matinees at 2 p.m. on Saturdays and Sundays. Othello plays on even dates and Twelfth Night plays on odd dates and all matinees.
More festival details:
HOOKED ON BARDICS: A Father's Day Fundraiser • June 19 @ 8 p.m.
Bring dad to the Varscona Theatre for an evening of laughs as the FSF teams up with Improvaganza to present London-based Shakespearean improv troupe The School of Night, joined by local favourites Mark Meer and Chris Craddock.
RIDE THE BARD BUS • Departures July 9 @ 1 p.m. & 7 p.m, July 10 @ 7 p.m.
For the first time ever, patrons can catch an ETS shuttle from the University of Alberta to the Freewill Festival. Sponsored by the 2011 ITU Triathlon World Cup.
VELOFEST GROUP CYCLING TO HAWRELAK PARK • Ride with a team to
Pay-What-You-Will shows on Tuesday evenings and Saturday matinees
Velofest Edmonton League and Organization is proud to provide guided cycle tours to the FSF this summer! Cyclists can present their bicycle helmet at the Freewill Raffle Tent and be entered into a draw for cycling-themed prizes, sponsored by MEC.
FREE STUDENT SUNDAYS
Jr. High, Sr. High, and post-secondary students can present their valid student ID at the festival box office on any Sunday performance and receive FREE admission. Sponsored by Servus Credit Union.
PAY-WHAT-YOU-WILL SHOWS • Tuesdays @ 8 p.m. & Saturdays @ 2 p.m.
If you're strapped for cash, but still want to catch some quality Shakespeare, head to the FSF for our Pay-What-You-Will performances twice a week.
EDMONTON JOURNAL THURSDAYS
Audience members can join Edmonton Journal personalities like Paula Simons for a pres-how chat with Freewill Artistic Director, Marianne Copithorne, on selected Thursdays during the Festival.
NO HOLDS BARD GALA • Saturday July 23rd @ 6 p.m.
Mix and mingle with the cast and crew to celebrate the end of another magnificent season of Shakespeare in the Park. This fundraising gala features live music and great food followed by the final evening performance of Twelfth Night. Tickets are $75.00, and can be purchased through the Freewill office at 780.425.8086.
But $75 for a party with the cast? The bard might note that "the robbed that smiles steals something from the thief."
FREEWILL STATS AND FACTS
• The FSF was started in 1989 by a graduating BFA Acting class from the
University of Alberta. Founding members Troy O'Donnell and Annette
Loiselle return to the performing cast this year.
• 45 local artists and 130 volunteers make the FSF happen every summer.
• Comedy of Errors was the first show produced by the FSF in 1989.
• Over 230,000 people have attended the FSF since 1989.
• 13,701 people attended the FSF last year.
• The FSF has a costume inventory of over 500 pieces, valued over $30,000, all
stored at Theatre Garage. Pieces are available for rent to the general public.
• In 2010 the FSF used 92 theatrical lighting fixtures.
• Each actor in the FSF is miked: The FSF has 36 wireless mikes in its
inventory. The sound technician follows a script and brings up each mike lineby-
line before it is needed.
• Once in the park, FSF has one week to set up and rehearse on the set.
• The FSF set is constructed in the Citadel's Scene Shop in a four-week period.
588 man-hours are allotted for the construction each year.
• Wardrobe is built at the Timms Centre for the Arts over 469 man-hours.
• The FSF used 15 gallons of blood in its 2009 production of Titus Andronicus.