TV: The Daily Show visits Alberta's Oil Sands
Alberta's oil sands got some major visibility on the Thursday, June 9, 2011 edition of the Daily Show with Jon Stewart … replete with correspondent Wyatt Cenac drenched in fake blood. Watch it on the Comedy Network website here (about one minute into the second segment).
But that was about the toughest question the energy industry faced in the short segment, which saw Cenac visit Alberta, interview Cenovus energy vice-president Drew Ziegelgansberger, tour the oil sands, and generally lampoon the U.S.'s number oil supplier of oil.
Cenac asked Ziegelgansberger whether he'd agree "that Canada is a blood-and-oil-soaked rapetocracy?"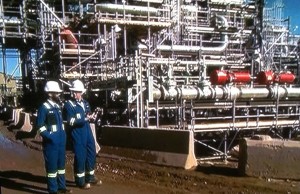 Ziegelgansberger got the whole "we need oil products" side of the argument out. "Every individual has a choice to use fossil fuels or not. But let me give you an example of what I mean. All your transportation needs would have to change. Your cell phone , your video games, your iPad – all these are made from petrochemical or petroleum-based products."
That begged the obvious question from Cenac: "What about Internet porn?"
"That would be gone," said Ziegelgansberger.
After touring the oil sands, Cenac interviewed Daily Show correspondents Samantha Bee and Jason Jones, both Canadian comedians. They used the term aboot furiously and told him to take off.
Cenac ended on an ominous note, with the suggestion that, just as terrorists extremists are training overseas, Canada is preparing "a new generation of Canuckofacists" who'll hate the U.S. for stealing our hockey teams.
There's nothing like a serious political debate…