Daryl Katz tagged by underground graffiti artist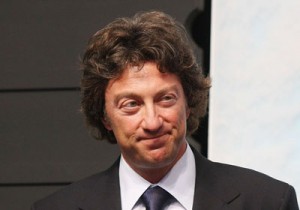 There was an image that appeared in just about every news story about last weekend's protest at Churchill Square over the arena agreement between the City of Edmonton and Oilers owner Daryl Katz.
It was on the placards the protesters carried — a black-and-white, stencilled portrait of Katz wearing a top hat and with the word "Oligarch" written beneath.
His expression in the picture would most accurately be described as slightly smug.
The cameras zeroed in on the Katz image. It was fresh, and really, really funny.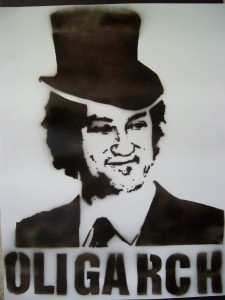 "He had a little smirk there. I think that worked well," says the artist who designed the stencil, spray-pained the image on placards and brought them to the protest.
"It satirizes him as a robber baron. And he is acting as a robber baron."
We can't tell you the artist's name, because he's already sprayed-painted a wall with the stencil, and he may do more. Graffiti isn't legal, but we're not going to get into that debate here.
Nor are we going to debate the pros and cons of building a downtown arena with public money, how much revenue the Katz group should be allowed to earn from such an arena, or whether Katz would really move the Oilers to Hamilton if we don't build the thing.
This story is only concerned with stencils. In particular, how this particular stencil is unique for Edmonton, both for its size, and for the fact that it focuses on an entirely local issue.
Stencilled slogans appeared during various conflicts in the 20th Century because they were a quick way of painting propaganda onto a wall. And quick was important when the consequence of getting caught with a stencil and a spray can, or paint roller, was getting sprayed with bullets.
A French graffiti artist, Blek le Rat, is credited with turning stencils into street art when he decorated blank walls in Paris in the 1980s. Banksy in the U.K. is the modern king of the art form, but he remains anonymous despite an Academy Award nomination for his 2010 film Exit Through the Gift Shop.
There are many examples of stencil graffiti in Edmonton, but almost all of them are no bigger than an eight-and-a-half-by-eleven sheet of paper. That's because most artists create their stencil image on computers, and the small size means that stencil graffiti is widely-known amongst cyclists and walkers, but anyone who relies exclusively on motorized transport is completely unaware of its existence.
"I like graffiti, especially politically-themed ones," says the artist who made the Katz stencil. "The act of putting up the art is an act of protest itself."
Stencils in Edmonton tend to depict national politicians like Stephen Harper, or pop culture icons. There's several walls in Edmonton that, strangely, have stencils of Molly from The Brady Bunch, or Lieutenant Commander Geordi La Forge from Star Trek: The Next Generation.
The artist who created the Katz stencil says he doesn't really consider himself an artist. Rather, he says he's just a fan of stencil graffiti who decided to make a few himself.
He found instructions for making stencils on the Internet. He then used Adobe Photoshop – illegally downloaded, he stresses, to stay consistent with the spirit of political protest – and created simplified versions of the photos that he wanted to stencil.
The final step was sticking the pages that come out of the computer onto poster board, and then cutting out the black bits, sort of like carving a jack o' lantern.
His first few were of Stephen Harper. They were easy, he says, because they were small and could be produced on one sheet from a printer. The Katz one, on the other hand, was so big that it had to be split into eight separate pages and then assembled on the poster board.
"Anyone who spends a few hours learning how to do it can do it. I'm not particularly adept at Photoshop, but it was fun," he says.
In addition to taking longer to produce the larger stencil, he says it's more difficult to remain inconspicuous while carrying it to the "canvas." It's too big to hide in a backpack with his spray tins, and it doesn't roll up well because of the cutouts. He had to tape it to the wall he chose (north ramp from 107 Ave. Onto Groat Rd.) and then carry it away once he was done without getting caught.
So much work, and already it's been painted over.
Still, they were a big hit when he sprayed the image onto placards and brought them to Sunday's rally. And that's some consolation.
The organizer of the event, Danny Barrett, was pleased with the response the placards got.
"The press seemed to like it. They used it as a focal point of their coverage," said Barrett, 22, a recent University of Alberta political science and history graduate.
"I think even Brian Mason took a copy."