NEW MUSIC: And now for something completely different…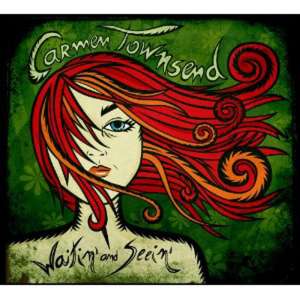 British rock and east coast folk rock are taken out for a walk and then stood on their head by two artists – the Arctic Monkeys, whose fourth album was released last week, and Cape Bretoner Carmen Townsend, who's coming to Edmonton later this week.
The Arctic Monkeys' new album title, "Suck It and See" is apparently a common phrase in the United Kingdom referring to boiled candies. However, in the United States in particular, it's been problematic, and has resulted in Walmart and other retailers placing a large black sticker over the offending words.
Be that as it may, it's gained the band a little extra exposure for their fourth studio album. The band, whose first offering was the fastest-selling debut album in British music history, has also done fairly well in North America in the past, with songs like "I Bet You Look Good on the Dancefloor" and "Crying Lightning".
On this album, the band does a particularly fine job of varying arrangements and tossing unexpected twists at the listener. Instead of the usual guitar and drum-work one would expect from a rock band such as this, they continually change pace, and the guitars in particular are used in a myriad of ways. One could envision other bands following the same trade route across a sea as everyone else, but the Arctic Monkeys have decided with this album to skirt the outer edges, take the road less traveled if you will. It's a welcome change for a rock album.
The album starts off with "She's Thunderstorms", a melodramatic, pace-changing track that instantly makes you want to tap your toe and sing along with the chorus – you'll likely be singing this song to yourself for days. The first single, "Don't Sit Down Cause I've Moved Your Chair", finds lead vocalist Alex Turner discussing ideas on how to increase the risk in your life to have more fun, such as "go into business with a grizzly bear" (not recommended, by the way), and "break a mirror / roll the dice / run with scissors". "Reckless Serenade" is another entertaining foray through various changes of pace.
The Arctic Monkeys are never going to be accused of being cerebral or deep. However, the twelve songs they've put together on this album combine the common elements of Brit-rock with alluring and unexpected guitar hooks and melodies that make for a highly entertaining album – in fact, it may be their best work to date
Cape Breton's Carmen Townsend released her debut studio album called "Waitin' and Seein'" earlier this year, but it's escaped notice out here in the west – which is unfortunate, because this redheaded dynamo is an amazing singer, songwriter, and lyricist.
"Waitin' and Seein'" was produced by Gordon Gano (Violent Femmes), and is raw, unabated indie rock meshed perfectly with folk and folk rock. The album starts out hard and fast with "River Rat", slows down for "Nothing Lasts Forever", then cranks up the volume again for "Hands and Mouth". "Start All Over" is another extraordinary rocker, which then flows into an interesting menagerie of guitar sounds on the more acoustic title track "Waitin' and Seein'".
Throughout the album, there's not one weak track, a consistency that's rarely matched by any album in this day and age of the downloadable single. The ten tracks seamlessly weave together like fine sand on a tropic beach, a singer-songwriter style that is distinctly reminiscent of Brandi Carlile, but includes other significant influences, including east coast rock, with the beautiful melodies backed up by searing guitars.
Townsend started a Canada-wide tour a couple weeks ago, but not before her regular drummer broke his hand the day before it was supposed to start. Thankfully, she found another fabulous drummer that's stepped in, and Townsend and her band will play the Wunderbar here in Edmonton this Thursday, June 16 – definitely a gig worth checking out.