Foo Fighters return to Rexall Oct. 28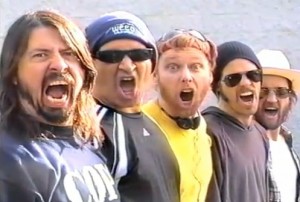 Who wrote "Foo for Your Love?"
No, it wasn't Mr. T, chumps. The song hasn't been written yet – but we still sing the praises of the Foo Fighters, returning us to rock us an umpteenth time at Rexall Place on Friday, Oct. 28. Tickets are $39.50, $49.50 or $59.50 and go on sale Friday at Ticketmaster.
It may be silly to compare the Foo Fighters with Nirvana, but people do because Dave Grohl was the drummer. Foo's music is generally more joyful than Nirvana's, wrought with less angst, less ashamed of itself for being popular and famous and absolutely perfect for performance in a hockey arena. Now will Best of You be remembered as long as Smells Like Teen Spririt?
Hard to know. As Sammy Hagar said once, "Time will tell if we stand the test of time."
Time's up. The answer is "no."
But who cares? Foo Fighters always puts on a killer show – joyful, open, friendly, very loud – and is touring now behind its latest album Wasting Light and another smash hit single therein, Rope.
They've lasted a lot longer than Nirvana, at any rate.