LIT: The Alchemists of Kush will blow your mind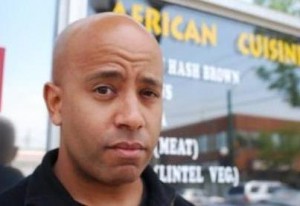 Minister Faust used "Kush" to describe the African quarter of Edmonton long before it became the buzzword for pretty much any strain of high grade marijuana. The Kingdom of Kush was an area near present-day Somalia – the Horn of Africa – around 1,000 B.C.
So all you potheads can stand down. The Alchemists of Kush is not about weed. Faust's new novel is far more mind-blowing.
The story opens with war through the eyes of a boy: "Then I saw… enemy soldiers knocking them to the ground, kneeling on their backs, grabbing them by their hair and slitting their throats—just like that, all in one motion—and then they were thrashing in the sand, like crabs boiling in pots. And then they just stopped moving."
That this grim scene takes place not in present-day Africa, but 7,000 years ago, doesn't make it any less disturbing – because things like this have happened in present-day Africa.
A parallel story in this novel-within-a-novel happens right here in Edmonton. Another lost boy scarred by war and who finds himself in a strange land witnesses an execution-style murder and is almost killed himself, but is saved by an elderly shopkeeper, in more ways than one.
At this point, it should be noted that The Alchemists of Kush, while it is inspired by several true stories, is a work of FICTION.  It will be released digitally on June 15, for $2.99 a copy (click here for details), and in actual physical book form July 7.
It's fitting – and of course completely planned – that an interview with Minister Faust happens "over injera and wat at the Mebrat Cafe." The Mebrat is actually now called the Afrika under new owners, but no matter: The 107th Street cafe is in the heart of Edmonton's Kush, where Faust has given a lot of thought to the African-Canadian experience over the years. Between novels, he produces and hosts radio shows – one talk, one music – on CJSR 88.5 FM, and was recently heard speaking at the Citadel Theatre for the sold-out TEDx, the lecture series for brainiacs. Turns out Faust, whose real name is Malcolm Azania, isn't even a real minister (though he has a few thoughts on religion). Born and raised in Edmonton, politically active since high school, one-time political candidate and also high school teacher, he has a unique perspective on the city's Pan-African community. He estimates it numbers more than 45,000 people, with one of the largest and the most recent waves of refugees coming from Somalia.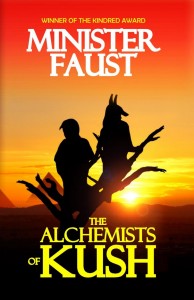 Fiction feels uncomfortably close to reality as our interview happens just two days after an innocent Somali man was gunned down near 107 Avenue. It was a case of mistaken identity. And here we're having delicious Eritrean stew and sponge bread a few blocks away as if nothing had happened. Faust cautions the public from making rash judgements.
He says, "You cannot find an immigrant story anywhere in the world where crime isn't part of the story – Irish, Germans, Italians, Jewish, Jamaicans, you name the group. If you're shut out and then people say, 'we don't want you, but we'll let you have the worst jobs we don't want,' after a while you get sick of that, you get angry, you get desperate."
The story of Africans in North America is often played out through music – which brings us to another mind-blowing concept in The Alchemists of Kush. The title of the book is Faust's version of a real event in musical history: the birth of hip-hop. It's widely known that poets first met DJs and break dancers on the streets of New York and a genre was born, but what of some of these so-called street poets? Faust relates the story of The Nation of Gods and Earths, a breakaway sect of the Nation of Islam headed by a man who dubbed himself "Father Allah," which didn't go down too well with the born again Muslims. But the Nation of Gods and Earths did something all the suit-wearing preachers couldn't do – bring the message to the street. There was a sacred "code" of letters and numbers, real kids talking about their real lives, rhyming, gathering the street in groups called "ciphers" to figure things out in real time – and BOOM. We get Busta Rhymes.
Father Allah also put forth a theory of humanity that's very appealing in its brutal elegance.
Faust explains, "Eighty-five per cent of people in the world, regardless of race or background or religion, are mentally dead, people who've been easily misled and are easily controlled. Ten per cent are the deceivers who exploit the poor. The other five per are the poor, righteous teachers whose job it is to teach what they know to those who do not know."
Members of the Nation of Gods and Earths also called themselves "the Five Per Centers" and, Faust adds, "there would be no hip-hop without these guys."
The themes of gold (5%), pyrite or fool's gold (10%) and lead (85%) run through both stories in The Alchemists of Kush, which can be read several ways. Chapters on "Then" (5,000 B.C. in ancient Kush) and "Now" (2011 in modern Kush) are interspersed, the lines blurred, various magical happenings therein. Azania, who is well-versed in all the pop culture references of the Order of Honourable Geekdom – from Star Trek to Monty Python – actually made his name for himself as a science fiction writer. His first novel, published by Random House in 2004, was called The Coyote Kings of the Space-Age Bachelor Pad. While there seems to be discrimination against science fiction writers in the Canadian literati – even science fiction writer Margaret Atwood denies she's a science fiction writer – Azania figures the Canadian literati should just lighten up.
"Some people say they don't like fantasy and science fiction stories," he says, "but they do – because they're fun. That's why you read any fiction. You like a story because it's fun."
Though the writer warns that his new novel contains "magic and one or two monsters," The Alchemists of Kush is his most down-to-earth tale. All that mumbo-jumbo about gold and lead – like any mumbo jumbo in any religion you'd care to name – is just way to shed light on human behaviour.
Faust says, "The ultimate argument of the book is that ALL of us, 85 per cent of the time, we're lead. Ten per cent of the time, we're pyrite, liars to ourselves or others. And then on our best days, we're gold – the alchemists who transform lead into gold."