CONCERTS: Sum 41 screams at the Starlite Aug 18, Pitbull chews up the EEC July 14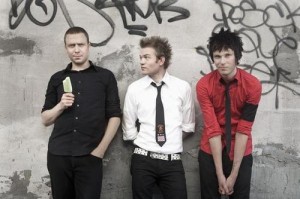 Today on WHO NAMED THE BAND: Sum 41.
Could be some kind of arcane code – maybe the collective IQ of the Canadian Liberal Party. The number of groupies the members of Sum 41 have bedded? Hard to know. Maybe ask the band when it plays Thursday, Aug. 18 at the Starlite Room – if you can get in a word edgewise. This Canadian pop-punk band is known to be  a tad loud in concert, and in a cozy club like Starlite should blow your ears off very nicely. Ought to sell out quick, too. The band is touring an "exclusive and intimate" show behind its latest, aptly-titled album, Screaming Bloody Murder.
Tickets to this all-ages show are a mere $30 and go on sale Friday at Union Events.
And now for a blast of sizzling Latin hip-hop comes Pitbull – perhaps best known for the current massive hit Give Me Everything – performing at the Edmonton Events Centre on Thursday, July 14. Tickets are $50 and go on sale Friday.
The press release contains a personal message from the Billboard Latin Music Award winner to his fans: "It will be an empowering experience that will give us a chance to show the world how music can unite us all. More than anything, we're going to have fun. Ya tu sabe representar. Dale!"
Yes! What he said!