Food Bank donations imitate art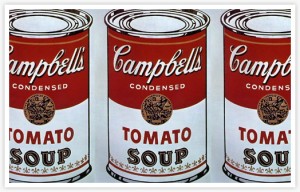 Attendees of the ANDY WARHOL: Manufactured exhibit at the Art Gallery of Alberta (AGA) are reminded that while soup can be art, it is also food – so bring along some cans for the Edmonton Food Bank.
Other non-perishable food items are also accepted, of course. One may also buy oversized novelty Campbell's Soup tins at the gallery, proceeds also to the food bank.
This landmark local art show represents every phase of the dour, uber-cool printmaker's career, the man who invented "pop art" and came up with sayings that are now clichés, like the "15 minutes of fame" thing. The AGA has come up with numerous events to celebrate the Warholic theme of the summer, like the sold-out Factory Refinery Party that drew nearly anyone who thought they were anyone for 15 minutes.
Next up is a lecture on Thursday, June 16 at noon: Art for Lunch: Manufacturing Warhol. The monthly Pop Goes the AGA happens starting at noon on Sunday, June 19, with tons of Warholian kids' activities, crafts and tours all afternoon. Regular admission rates apply.
Read Fish Griwkowsky's review of ANDY WARHOL: Manufactured here.