Heart repaired, an Edmonton musician finds hope in shaken Japan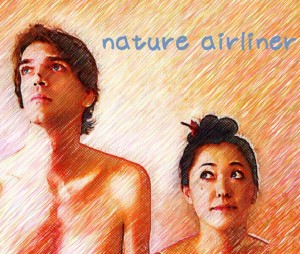 When Tokyo-via-Edmonton musician Laurier Tiernan was preparing a gift to send his family back home three years ago, he had no idea he was about to stumble onto something big.
"In 2008, (my wife) Eiko and I, instead of sending Christmas presents home to Canada, we decided that we were going to write a Christmas song together for our relatives and post it up online. And just give all our relatives the URL and post some Christmas pictures and stuff like that," he recalls.
Tiernan was at a crossroads in his musical career. Since undergoing lifesaving heart surgery earlier that year, he was low on the angst that usually fueled his punk-edged indie rock solo songs.
Unfortunately, it looked like the folk project was doomed to be a one-off, despite suggestions to further pursue music with his wife, who had never sung professionally before.
"Eiko said, 'There's no way in hell.' She had no interest in standing up in front of an audience at all," Tiernan says.
"And then in the winter of 2009/2010, I had written a whole stack of new songs that were kind of poppier than I used to write, and whose melodies were higher than I sing comfortably. Instead of transposing the songs, I asked Eiko if she would try to sing them for fun in our bedroom, just for the hell of it."
He eventually convinced her to do one gig under the name Nature Airliner.
After that, there was no looking back.
"After we did one show, we just started being offered shows left, right and centre," Tiernan says.
Soon came endorsements from Yahama guitars and Levi Strauss jeans, and now a full-length album is in the works.
The duo's musical project may have even saved their lives when a deadly earthquake and tsunami devastated Japan earlier this year.
Although the pair lives two provinces south of where the quake hit, their apartment building was badly rocked by the quake.
Thankfully, they were off on tour at the time, playing cushy hotel resorts.
"We live on the ninth floor of a very old building. So, given the height and the old structure of the building, our apartment was shook like hamster's cage," Tiernan says. "My guitars were everywhere, Eiko's cameras were everywhere, the fridge was halfway across the kitchen on its side, the kitchen table was in the bedroom.
"We had to throw away about a dozen garbage bags of possessions because they were smashed and broken."
Things are slowly going back to normal in Tokyo, where the lanky 6'7" musician moved years ago to pursue music.
Businesses have cut power usage and business hours, train stations have reduced lighting, and there are plenty of benefit shows where Nature Airliner can bring its sweet tunes.
"I've really been impressed on a huge scale with the warmth not only of Japanese people, but of the foreign community living in Japan. An endless, endless, endless stream of benefit concerts being organized, and also activist groups taking box loads of supplies up to the Miyagi province where the earthquake happened," Tiernan says.
The duo is currently promoting its upcoming single 12 Billion Arms, which is set to hit all major online retailers next Tuesday (June 21). Nature Airliner has hooked up with Vincent Marx, leader of the Tokyo branch of the global Free Hugs movement, on a video for the single.
Stating his 2010 solo album Peace on Earth, was his "last angergasm," Tiernan has seen his life take a positive turn since embracing the calm, positive demeanor of Nature Airliner.
To that end, the singer/guitarist recently connected with Japanese charity Living Dreams to start a program that gives orphans music lessons at an orphanage in western Tokyo.
"That's been a dream of mine for a while," he says. "Finally, now that I've left all the work of spouting negativity behind, I can use the free energy to achieve things to make the world a better place, instead of complaining about how bad it is."