Live to improvise, improvise to live at Improvaganza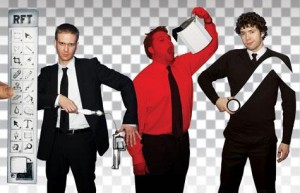 To be willing to "fail happily" is one of the foundations of comedy improv – and also a happy life.
When you truly shed your ego in the manner of the Buddhists, even death becomes OK. Cue the sound of one hand clapping.
This may all seem too deep for Rapidfire Theatre's Improvaganza festival, running at the Varscona Theatre and other venues with performances from improv troupes from around the world until June 25 – but there is more to this type of live theatre than smoke and mirrors. Edmonton's cabal of improvisers has been going strong since the form was popularized more than 30 years ago – after being invented in Calgary, legend tells – and Edmonton's impressive presence at the upcoming Canadian Comedy Awards is no surprise. These people live to improvise, and sometimes, improvise to live.
Rapidfire artistic director Amy Shostak says, "One of the interesting things about improv is that if you've been doing it long enough, it becomes a way of thinking and a way of life, which is crazy to say, but it's true.
"For me, and I can only speak for myself, it has taught me to not sweat the small stuff. Embarrassment is part of life, and if you get used to being embarrassed in front of 200 people, it's not such a big deal if you trip and fall at the grocery store."
Anyone can learn to do this. One of the first things Shostak says she teaches novice improvisers (Rapidfire runs classes both for high school students and seniors) is to never say no to anything.
"Accept all ideas that come forth. Generally every idea is a good idea," she says, allowing that this principle does not apply to politics, nor, unless you want to get into the sort of trouble that doesn't end when you leave the stage, in real life.
Audiences for improv shows – which have steadily grown to the point that this can be properly called a global industry – gets to experience the vicarious thrill of happy failure. Don't we all love to see the reality TV stars crash and burn? These improv performers often set themselves up in impossible situations on purpose, using all sorts of bizarre games with arcane rules, comedy "battles" and different forms of theatre made up on the spot. Some are sure to fail. Maybe certain performers WANT to fail. The paradox is that in the hands of a master improviser, the flopped bits are sometimes the best bits. Therefore: Not a failure. It blows your mind when you think about it.
The full Improvaganza schedule is here. Selected highlights include:
Doppelganger (Friday, June 17, 11 pm, Varscona) – "Organic free flowing form will blow your mind."
Dad's Garage (Tuesday, June 21, 7:30 pm, Varscona) – Creates an entire Hollywood blockbuster based only on audience suggestions.
The School of Night (Thursday, June 23, 7:30 pm, Varscona) – Improvises in iambic pentameter.
Neil Hamburger (Thursday, June 23, 11 pm, Varscona) – Old-school comedian who has perfected the "anti-joke" has appeared on such shows as Jimmy Kimmel and Tom Green.
And our own Rapidfire Theatre itself, of course (various dates and times)
Musical guests (mainly at the Black Dog) include Mass Choir, The Joe, Prairie Nights, Mikey Maybe, Mitchmatic, Doug Hoyer and Kemo Treats. Workshops and lectures run throughout the event (mainly in the PCL Theatre in the Transalta Arts Barns) with "many more surprises to come."
Do they really even need to add that?
Tickets are available online here.