Utopia Music Festival to be happy, shiny experience – even in the rain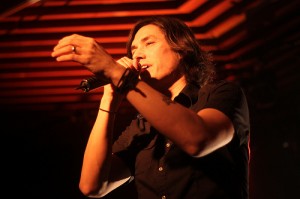 Rarely have the words "THE SHOW MUST GO ON" meant so much as they do for the promoter of the Utopia Music Festival.
Dale Plourde, after working on this weekend's Edmonton Pride Festival event for the past year, suffered a mild heart attack three days ago. Friends quickly revived him and he was rushed to the hospital, where there was no permanent damage to be found, and released the next day. Plourde says he just collapsed in his kitchen. It was caused by "too much on my plate," he says, plus bad food, too much sun, not enough sleep. While doctors ordered him to rest, Plourde wasted no time getting back to the concert site in Hawrelak Park's Heritage Amphitheatre. Ani DiFranco played Friday night, with David Usher (above) Suzie McNeil and the Lights headlining tonight (Saturday, June 18).
"I'm fine. I'm feeling weak," Plourde says, "but it's very therapeutic to be out here."
Blame the rain for some stress, a kind of stress very familiar to anyone brave enough to put on an outdoor event in Edmonton. Organizers toyed with the idea of moving the whole shebang indoors, but Plourde – a local event planner with Pure Pride Entertainment and former drummer who's worked with both Nickelback and the Matthew Good Band – says he got some good advice from folk fest producer Terry Wickham: "He said people would be more pissed off if you moved this inside than if it was raining. It doesn't really rain here that much, anyway. Even in the rain, it's beautiful here. This venue is amazing."
With today's bill featuring an eclectic line-up of music (everything from folk singers to reggae bands to house DJs), connected only by "pride" – and let's not even discuss the Earth-friendly Utopia market – Utopia promises to deliver exactly the sort of vibe that was missing from the last Lilith Fair. It's a lot more fun to see these folks do their thing in the rain than it is in some smelly bar. Besides, the entire venue has a giant tent over it. Bring on the rain!
Plourde makes a nice point about removing "Gay" from Gay Pride.
"The whole point is that it doesn't matter," he says. "I think people tend to get too caught up in that discussion of who we SHOULD be with. It's about people, and seeing an individual spirit when you look at somebody. If we do that, maybe we can get rid of some of the labels."