Urban design mag goes national, finds niche in souls of Canada's cities
Posted on June 19, 2011 By Rob Drinkwater Culture, Visual Arts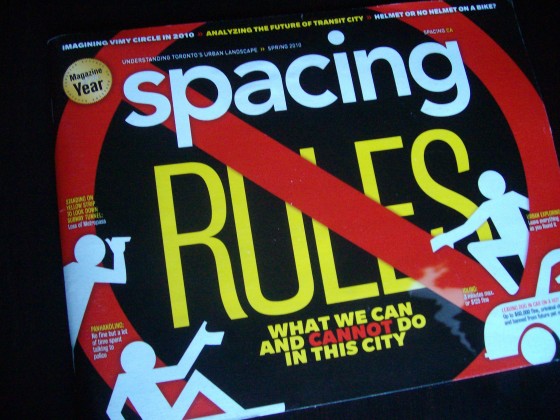 Back in 2004, Matthew Blackett figures more people knew about the buttons he sold to promote his then one-year-old magazine about urban planning and design in Toronto than actually knew about the magazine itself.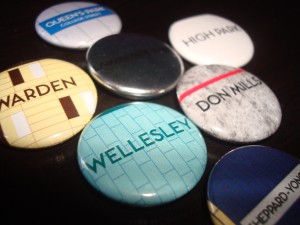 The buttons featured the unique tile pattens specific to each stop on the Toronto Transit Commission subway system and they were an instant hit. Over 40,000 of them sold in the first month, and then-mayor David Miller bought packs of the things to hand out like candy at public events.
Seven years and nearly 200,000 buttons later, "Spacing" gets 15,000 hits a day on its website and is holding a cross-country road trip to launch a national print edition. Blackett and "Spacing" editor Shawn Micallef will be in Edmonton on Wednesday, June 22 at 6 p.m. at the Art Gallery of Alberta for an event Blackett says will be part forum on urban design, and part party.
"It's not necessarily about urban planning. It's about urban living and the importance of the details," Blackett explains about what the magazine is about.
"We cover real estate, but not from the perspective of prices going up or down. We look at if from an architectural perspective. We don't cover the redesign of your living room."
"Spacing" isn't a technical journal written by professionals and meant only for municipal planners. There are articles on street art and graffiti. An article on bylaws in an issue last year focused on how regulations affected a couple who moved to Toronto and were attempting to open a restaurant. (They ultimately gave up.)
A photo essay, meanwhile, chronicled squatters camps in the Don Valley.
The new national issue has a feature on the top 100 public spaces in Canada. Five of the spaces are in Edmonton — the North Saskatchewan River Valley, the south grounds of the Alberta Legislature, Hawrelak Park, the Victoria Promenade, and Beaver Hills Park on Jasper Ave. between 103rd and 104th St.
A $5 entry fee to Wednesday's event gets you a copy of the new magazine, which will cost about $10 in stores.
Two of the people who plan to be there, Scott Lilwall and Mike Otto, already publish their own blog on urban design and public spaces in Edmonton called "The Charrette." Since December it has carried articles on a variety of Edmonton issues, including the redevelopment of the City Centre Airport lands and the proposed downtown arena.
Other cities have similar websites. There's the "Regina Urban Ecology blog," and in Vancouver, there's "re:place."
Otto, 26, says that while the popularity of "Spacing" and blogs on urban issues may sound surprising, there is a real desire, in Edmonton at least, for young people to get involved rather than simply complain.
"It used to be that people left Edmonton. Now they're staying and working to make Edmonton better," he says. "People are turning around the 'deadmonton' stigma."
Part of the interest in urban design undoubtedly comes from recent attention that's been paid to urban sprawl and automobile dependency. And from those issues come questions like how do we design places where people can walk or congregate, and how do we balance function and practicality with beauty.
For Blackett, who started the magazine after he was laid off from "The Hockey News," the popularity has a lot to do with the fact that people are much more aware of how things are done in other cities thanks to travel and the Internet.
Travellers, he says, can easily share photos of their discoveries on Flickr.
"People are paying much more attention to the details of cities. I have a whole collection of photos of garbage bins," Blackett cites as an example.
"They don't have recycling bins everywhere in Vancouver. They have a ledge around the garbage bins and people put bottles and cans there," he continues.
"They don't need recycling bins. They have bottle pickers."
Blackett says the goal is to have a "Spacing" blog in every city. In some cases he says that will mean having a link to aready existing urban design blogs in order to avoid a conflict. He says there's there's no decision on what they'll do in Edmonton, yet.
"We've found a niche," he says about the magazine. "Public spaces."