Edmonton rapper to open for Eminem this fall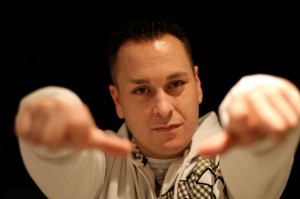 Edmonton rapper Doug Crawford has an unlikely organization to thank for getting to open for Eminem on D12's American tour this fall – Canada Customs.
If it weren't for our polite and efficient border patrol, who obviously didn't like the look of this posse of Detroit rappers when they came to entertain the good folks in Kelowna last year, Crawford wouldn't have had to kill time on stage while the headliner was being grilled at the border. Crawford and his crew kept the show going more than an hour longer than they'd been expected to play.
"We kept it together for them that night," Crawford says. "We were basically the hype men."
It helped that the rapper had lived in Kelowna and drew a large number of hometown supporters, but when D12 finally did arrive, they were so grateful that their gig didn't self-destruct that they invited Crawford to open their Canadian tour this spring. They liked his music, too. That tour worked out so well that Crawford will now open the American leg of the D12 Dirty Nation Tour starting in September, where audiences should increase by at least a factor of five. Europe will follow. Two of the dates – one in Detroit and one in Nashville, of all places – will be headlined by Eminem.
No word on whether the Big Em has given a thumbs-up to the new protégé yet. "Obviously, that's a goal, but it hasn't happened yet," Crawford says.
He says he's not worried how he'll go over in America. He's recorded tracks with both D12 and WC from Westside Connection that will be included on Crawford's forthcoming album, One Day at a Time, so "that was a huge sign to me that they were into the music."
Here's the kind of stupid question you ask a football player before playing the Super Bowl, but it has to be asked: Are you ready for this?
"I'm super ready," Crawford replies. "I'm on radio across Canada and the U.S., I've got videos on Much. My album is ready. The only thing was missing is the worldwide tour. I couldn't ask for a better opportunity."
Catch what the big deal is all about when Crawford performs on July 1 at the Millwoods Celebrates Canada event at Millwoods Park.