THIS WEEK: Concert season kicks into gear with Rihanna, Jube schedule
* Looking for tickets to these shows? Click the buy links on our events page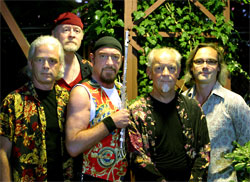 There's an odd sense of kismet around the Northern Alberta Jubilee Auditorium over the next week, a cosmic counterbalancing of musical forces to address the pop extravaganza kickin' it new school over at Rexall.
And if you buy that hippie claptrap, you may fit the Jube's demographic perfectly this week, dichotomously fractured as the schedule is between two feel-good singer-songerwriters — Don Williams and Steve Earle, on Wednesday and Monday respectively — and two creative forces in Jethro Tull (pictured)  and Brian Wilson on Tuesday and Sunday. After all, outside perhaps of Steve Earle, the under-40 demographic isn't huge for any of these guys.
For that, there is the midweek popstravaganza that is Rihanna, in the megaprofitable barn that is apparently not good enough for the Oilers.
Let's face it, for all our reputation as festival city counts — and that's lots — we're also concert central these days; there are at least two major acts a week here just about all summer long.
Far be it from we to simply wax poetic, however, about the relative strengths of the summer lineup. Instead, we do our duty as soldiers of the next brigade, the internet news revolution, by offering this link to Jethro Tull's website. It's not an interview but, let's face it, these guys have done four decades' worth already, so really, what's the bloody point mate? This has Tull songs on a streaming channel, recent interviews with Ian Anderson and the various band members, tons of purchasable swag, and a countdown clock that makes no sense at all, as far as we could tell.