Jeff Beck to thrill area guitar worshippers at the Winspear Oct. 25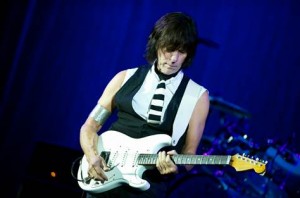 The generational divide between Baby Boomers and Generation Xers can be summed up with one simple name: Beck.
Which one came first to your mind? If you stand, or more likely, sit, on the Jeff Beck side of the line, this is your lucky day. It's Tuesday, Oct. 25, to be precise. That's when the rock guitar legend comes to thrill area guitar worshippers at the Winspear Centre. Tickets are $55 or $75 and go on sale Friday, June 24 at the Winspear box office. Call 780.428.1414.
Considered one of the three "Gods" of British rock guitar (Clapton is the Father, while Jimmy Page and Jeff Beck can fight over the Son and Holy Ghost titles), Beck has won eight Grammy awards – mainly in best rock instrumental performance, which he basically owns as long as he's got a record that year. Beck's latest is called Emotion & Commotion. His legacy stretches all the way back to the crucible of the British invasion, as a member of the Yardbirds and in the Jeff Beck Group with Rod Stewart, who would also go on to do great things as a solo artist.
A perfectionist who's experimented with almost every genre of music you could name, Jeff Beck falls short of being categorized as a jazz artist – though he does jazz festivals all over the world and certainly could've done the Edmonton International Jazz Festival – for one simple reason: He rocks!
So does the other Beck, who, by the way, has also dabbled in jazz. When might these not-so-different-after-all Becks do a proper duet together and bridge this silly generation gap once and for all?