Trombone Shorty headlines eclectic night of music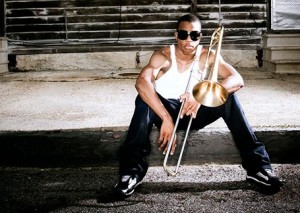 The live music offered on an average Edmonton Friday night borders on the absurd, sometimes.
U.S. performers often marvel at how active our club scene still is, long after most of theirs were replaced by drum machines and disco balls, as a certain song once noted. They're amazed we pull it off. I don't have the heart to tell them local musicians are paid the same wages clubs here paid in the 1970s.
Tonight, Edmonton is even more unusually rife with interesting acts than usual.
If you've ever wondered what world class modern jazz sounds like, there's Trombone Shorty at the Citadel Theatre as part of the Edmonton International Jazz Festival. Shorty, a terrific bandleader and musician in his own right, wears the current mantle of "young dude aging hipsters desperately wish will make jazz huge again." It's not a commercial thing – all roots fans do it, to some extent, intent on ensuring their genre survives the onslaught of cookie-cutter pop designed to placate the chanting, dancing masses.
At Bohemia Cafe, meanwhile, there's the electric combination they've entitled "Art + Muzak", featuring four bands and seven artists creating a show together.
If the blues and blues-rock party thing is your bag and you like helping folk, too, there's a fundraising show for Slave Lake-area fire victims at the Italian Cultural Centre, with The Motorcycle Madman, Carson Cole, as well as Edmonton's own touring troubadour Bobby Cameron and Julian Austin.
At the Starlite, there's  farewell party for Daisy Chain, featuring four acts. The ever-interesting Apresnos play Haven Social Club, alongside Heaviside, Silvergun and Spleen.
For the '50s nostalgist, there's the Buddy Holly show at Century Casino, while tier-one blues bass man Russell Jackson fronts his band at Blues on Whyte.
Wanna know the scary thing? That's just scratching the surface. There are about a dozen more musical acts around town if you really feel like doin' it up right for the night. Designated drivers highly recommended, of course.