Memorial service for Gaye Delorme set for July 10 at the Polish Hall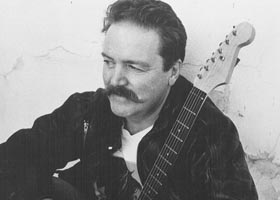 The memorial service for Gaye Delorme, who died suddenly in Calgary on June 24, will be held at the Polish Hall, 10960 104 Street, at 2 p.m. on Sunday, July 10. Other memorials are being planned for Calgary and Vancouver.
Local drummer Greg Pretty called the death of his friend a "huge loss … he was brilliant."
Considered one of the greatest guitarists Edmonton has ever seen, if not all of Canada, Delorme was a master of flamenco guitar – among several other things – which he started learning at the age of 14 in reform school, where music apparently saved him from a life of crime. The man has since done so much with so many that it's difficult to even grasp all of it. He didn't help by refusing to blow his own horn. Delorme is one of these guys who quietly succeeded on his own terms, flying just under the radar.
Delorme worked with legends both local and global. He knew singer Flora Purim, hung out with Lenny Breau and had a knack for finding great musicians everywhere he went. Word has it that Colin James basically stole the band Gaye had put together back in the day. Or maybe it was the other way around.
One of the musicians Delorme found was a young Greg Pretty, straight off the boat from the Maritimes and looking for a gig in Edmonton back in 1983. Gaye happened to be looking for drummer at the time. Pretty had never heard of Delorme before he showed up at a Sidetrack Cafe gig one night.
Pretty arrives during a break, chats a bit and then sits back to watch the band.
"It's Gaye Delorme, (bassist) Dennis Marchenko, (keyboardist) Boogie Voll," Pretty says. "I'm listening to them play and I'm thinking, fuck this, I'm outta here. I can't play with this guy. And then he goes, 'We have a special guest coming up on drums, Mr. Greg Pretty.' Brian Feland comes off the drums, passes me the drumsticks and says, 'Don't overplay, he'll leave you up there by yourself.' And we played a bunch of songs and then afterwards, for some reason, he said to me, 'so what are you doing tomorrow night?' That's how I started with Gaye."
The relationship grew far beyond music, Pretty says, even when Delorme wound up moving away and living in Vancouver for 10 years. He moved back to Edmonton just over a year ago.
There were two sides to Delorme: The serious musician side was obvious to whoever saw him perform, but he had a wicked sense of humour that would come to light several times – leaving a permanent stamp on popular culture in the process. Fans and friends might have to imagine that he would've been OK with being remembered mainly for The Rodeo Song – the widely popular singalong that would've been a huge radio hit if it didn't pack the greatest wattage of profanity ever heard in a country song. It's also a little known fact that Delorme wrote the closing number in Cheech & Chong's Up in Smoke movie: A lovely little rocker called Earache My Eye. Sample lyric: "My basketball coach, he just kicked me off the team, for wearing high heeled sneakers and acting like a queen."
Of all the tributes Delorme collected over the years, few have as much impact as one from Stevie Ray Vaughan.
Pretty says, "He called Gaye 'one of the best there is.' It actually kind of chokes me up to say it."