High cost of security keeps AGA closed at night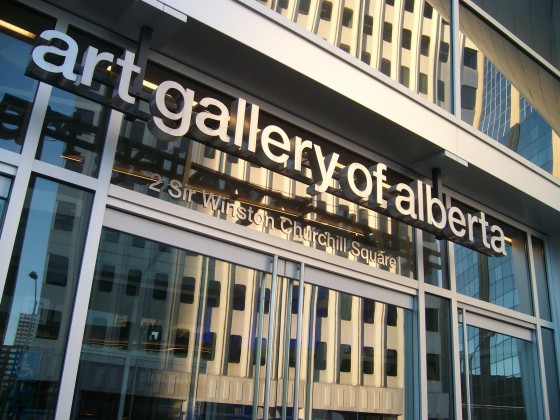 Maybe you work downtown and really want to catch the latest exhibition at the Art Gallery of Alberta. You get out the office door swiftly at 5, but you're hungry and need to grab a quick bite so that your growling stomach won't echo through the exhibition halls.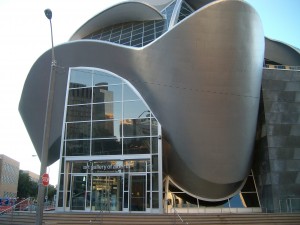 It doesn't leave much viewing time once you've paid you get there and pay your $12.50, because the doors close at 7 p.m.
Unlike most things arty like theatre, music, or movies which can be enjoyed by night owls, the AGA keeps closer to bankers' hours. And it seems contradictory to the AGA's highly-successful, late-night Refinery parties which have been held every few months in the hopes of luring a young crowd to the gallery.
Only on the last Thursday of every month, when Servus Credit Union sponsors a free night, is the AGA open until 9 p.m.
Gilles Hebert, the executive director of the AGA, wishes it could be otherwise.
"It's very expensive for us to have the gallery open. There's security costs and guide costs," Hebert explained, noting eight security guards are needed for the free nights.
'We wouldn't be able to host touring exhibitions if we couldn't guarantee their safety.
"If we could come up with a corporate sponsor, maybe we'd be open every Thursday night."
The AGA's hours aren't unusual in the art world. The Guggenheim in New York shuts at 5:45 p.m. most days, although it stays open until 7:45 p.m. on Saturday. The Tate Modern in London and the Louvre also close before 6 on most days, but they do have two days a week where they're open until 10.
Opening hours are a balancing act for galleries. School tours make up a large chunk of their viewers, as do the lunchtime office crowd, so galleries aren't able to simply shift their opening hours later. And budgets often don't allow for more staff too be brought on for night time viewing.
So like many cities, Edmonton ends up with an art gallery that opens from 11 to 7 from Tuesday to Friday, and 11 to 5 on Saturday and Sunday.
For the city's downtown, which has desperately sought to transform itself into a 24-hour activity centre, the gallery's early closing presents a problem.
The Capital City Downtown Plan stresses the importance of getting people to live downtown, and it states that part of the strategy for doing that includes creating "a vibrant arts and entertainment scene."
"Crime and safety downtown have been identified as important concerns for many citizens. The existence and perception of a crime problem can cause a vicious cycle — residents move from Downtown , lowering the desirability of the area, making it a more attractive locale for criminal or socially undesirable behavior," states the plan, which was adopted by council last year.
"Part of the solution is to ensure more people come and stay Downtown. Crime rates will tend to decrease with more street life and 24-hour activity."
The hope in the plan is that new developments in the Arts District, which contains the AGA, Citadel Theatre, the Winspear Centre, and soon the new Royal Alberta Museum will spawn a "pedestrian friendly environment featuring cafes, specialty stores and entertainment uses."
But a thriving night life wasn't what Matthew Blackett, publisher of "Spacing," found when he was in Edmonton on Wednesday for a panel discussion to launch the new national edition of the urban-planning-themed magazine.
Blackett told the panel, which was held in the Ledcor Theatre in the AGA's basement, that there was a festival going on in Churchill Square when he checked into the Westin Hotel at 3:30 p.m. and he thought things were great in the downtown.
"I took a nap, woke up and it was 6:30 and there was no one around," Blackett said.
The frustration was shared by some members of the audience.
Janae Jamieson, 23, said she's gone to Refinery parties at the AGA, which feature a DJ and a bar. While Jamieson said she enjoyed them, she said she'd like to come to the AGA on a normal night, too, if it was open at night.
"I personally don't work during the day shift but most of the people I would go with do, so I'm not going to go to the gallery alone," Jamieson said.
Kristen Rutherford, who moved to Edmonton from Saskatoon last year, said she goes to the AGA on Saturday afternoons. But she agreed things need to be open in order to get people downtown at night.
Then Rutherford said something that might shock Edmonton art lovers. The Mendel Art Gallery in Saskatoon, she said, is open until 9 every evening.
There's more.
"It's free," she said. "They take donations, though. So every time I go I chuck something in."
Can it be true? Open late, and free?
Vincent Varga, executive director and CEO of the Mendel, confirms it is indeed the case. It's open 9 to 9, seven days a week, and the only day it's not open is Christmas.
"The Mendel has a long and rich history of being open to the community," Varga said. "It's partially by choice on the part of the board, and certainly a commitment from the city."
Varga, who is a former director of the AGA, noted the Mendel has only about a third of the exhibition space as the AGA, meaning it can get by with only one or two security guards in the evening. He also said the gallery's location near the South Saskatchewan River means it routinely draws people who go out for evening walks on the Meewasin Valley Authority trails.
There's also a plant conservatory next door, which he said is also a draw, and other activities going on nearby like Shakespeare in the Park.
"People see it as an opportunity to do something other than going to the mall,"Varga said.
It may not last, though. The Mendel is scheduled to be replaced with the much-larger Remai Art Gallery of Saskatchewan in 2014 and Varga said changes might be necessary.
"The business plan is still to be free except maybe for touring exhibitions, where there would be a charge," Varga said, adding the hope is to remain open from 9 to 9 daily.
"We haven't crunched the numbers yet. We hope to be accessible but it may mean being open until 7."