REVIEW: Brian Wilson 'reimagines' Gershwin, Beach Boys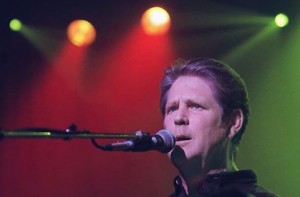 I've read the books and reviews that say Brian Wilson is a weird guy, but Sunday night at the Jubilee Auditorium, he wasn't any weirder than anyone I know.
Here is a man who is quite comfortable calling his own material good without seeming arrogant or like a braggart. It's just a fact. He seemed pretty comfortable, sitting behind a keyboard and singing most of the songs. He talked a lot. He was engaging, humorous, and was not taking himself too seriously. His songs are good, we know it, and he knows it, and he doesn't mind saying so. There aren't many who could argue with him.
I confess that my knowledge of George Gershwin is limited to whatever I was exposed to in my experiences in theatre. Of course I have heard Gershwin's music, but I never sat down and studied it. What Brian Wilson's band did during its first set at the Jube sounded what it would be like if the Beach Boys did Gershwin. The thought of Wilson doing Gershwin note for note the traditional way seemed pointless. I was glad for, and enjoyed, the "re-imaginings" of the songs.
The second set was an onslaught of excellent Brian Wilson material. His 15-piece band was great. At some points eight people were singing in harmony together, which is a rare thing to see. Wilson continually joked that if the audience "didn't like this song, there's nothing we can do about it". Those guys were pulling off Beach Boys harmonies (no surprise, considering the band leader) and the parts and sounds from the albums, so standout moments for me were Dance Dance Dance, God Only Knows and – of course – Good Vibrations.
We're lucky a rock 'n' roll songwriting master like Brian Wilson came to town. Nothing weird about that.
(EDITOR'S NOTE: When Mike McDonald isn't loving the Beach Boys for fun, he runs an independent record store off Whyte Avenue called Permanent Records and sings rock 'n' roll from time to time. He did not perform Beach Boys songs in Jr. Gone Wild, as far as we know.)