Sled Island serves up 200 moments of random intimacy – plus Tubby Dogs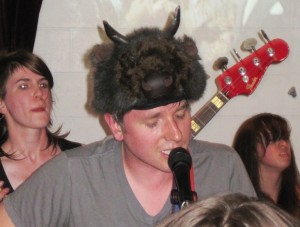 Hordes of Edmontonians made the trek to Calgary's Sled Island Festival for four days of partying and punishing our eardrums last week.
A handful of Edmonton acts had a blast rocking the annual fest, which featured more than 25 venues and over 200 artists, including the Buzzcocks, Sleep, Hot Panda (above) and the Dandy Warhols.
"It's exciting and it's such a good festival. It's really done right," Slates frontman James Stewart said after playing a solid Sled set at Local 522 with his Edmonton band Friday night.
"A lot of festivals, it's just a huge shit show in a field somewhere and just waiting in line for three hours to buy tickets, and then waiting in line another three hours to get water with those tickets for five bucks a bottle.
"Here, it's a ton of small venues, intimate clubs – you're going to miss a lot of stuff but you'll see stuff that you never would have (otherwise seen)."
Amid sprinting from one packed venue to the next (and between jaunts to the hotel room to pound back drinks), it was impossible to see everything at Sled Island.
Nevertheless, after catching as many shows as possible over three full days at Alberta's version of South by Southwest, here are a few standouts.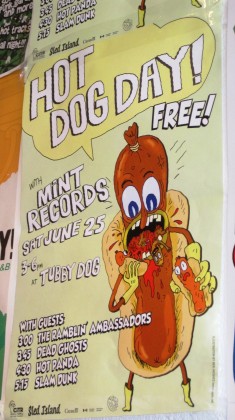 Best Edmonton act: Gobble Gobble. The group's mastermind Cecil Frena got a large crowd jumping at the sweltering Distillery Thursday night with its unique brand of oddball house music. In one of the funnest sets of the festival, Gobble Gobble's performance featured bright lights, a dancy cover of Pixies classic Where is My Mind, and a band of bare-chested male percussionists running through the crowd in pink tutus.
If you haven't caught these guys around town yet, you should really get on it.
Best venue: It's tiny. And there's no stage. But it's impossible not to love Tubby Dog on 17th Avenue. E-town favourites Hot Panda and Victoria's Slam Dunk rocked wildly energetic sets during a free show at the licenced all-ages venue Saturday afternoon. What made it even better was the fact I had just stuffed my face with Tubby Dog's namesake hot dog, which was swimming in homemade chili, cheese, bacon, onions and mustard.
Edmonton rocker Michael Rault on what looks to be an Epi Casino in the top pic), who played the Ship and Anchor Pub Thursday night, fondly recalls playing the venue at a previous Sled Island gig.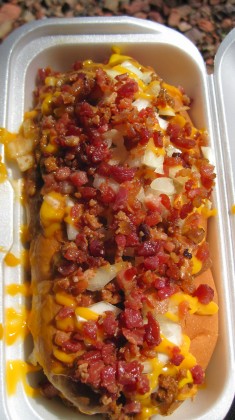 "When I first found out that we were booked at a hot dog stand, I was wondering if I should be insulted or not," Rault laughs. "But actually the people there are great, and I think I probably enjoyed playing Tubby Dog more than a lot of other venues."
If you really have a vendetta against your arteries, you can pick up Sherm's Ultimate Gripper for $10. That dog is wrapped in bacon and deep fried, then topped with ham, chili, cheese, mustard, bacon, hot peppers, onions … and a fried egg. Tasty.
Strangest performance: 55-year-old Sonic Youth guitarist Lee Ranaldo walked into Central United Church Thursday night rubbing an electric guitar along the walls and beating on it to get various degrees of echo and feedback.
What appeared to be a grand entrance morphed into a full-fledged performance art piece in which Ranaldo hung his guitar from a noose in front of a nudity-laden, highly-church-inappropriate video backdrop. He recited a poem at one point, and continued to bat his guitar back and forth, finishing the performance without strumming a single chord.
Half the audience left before the end of Ranaldo's set, the other half gave him an enthusiastic Standing O. My verdict? Brilliant.
Venues were often literally overflowing with enthusiastic music fans, whether for a colourful, bombastic set from indie-rock faves Of Montreal at the outdoor Olympic Plaza, or for lesser-known stoner metal act Dead Meadow at the tiny pub Local 510.
It would be nice for Edmonton to have our own Sled Island (editor's note: hear tell Fish is working on it….) , but hell, who doesn't enjoy a nice three-hour road trip.
I'll be back.
Here at home, you can catch Slates' all-ages CD release for its new album Prairie Fires at Inglewood Community League July 8.
Michael Rault will rock Churchill Square on Canada Day as part of the Works Art and Design Festival.