WHO NAMED THE BAND? Gypsophilia sounds like itself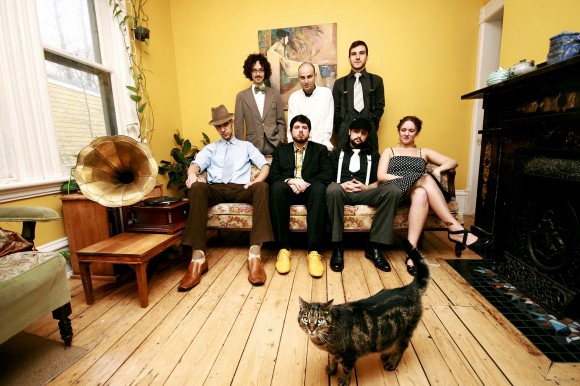 Once in a while you come across a band that sounds like its name: Metallica, Trent Reznor, the London Royal Philharmonic Orchestra.
This can be both a blessing and a curse. For the members of Gypsophila, they are instantly identifiable as enthusiasts of the great Django Reinhardt, who invented so-called "gypsy jazz" by fusing swing with Eastern European folk music in the '30s. His influence can still be heard, not just on concert stages, but in reverent covens of amateur musicians in living rooms and kitchens around the world – not to mention numerous feature films by Woody Allen. There's a reason for this: Gypsy jazz is just about the most fun you can have and still be called jazz. Think of it as swing on cocaine. Just hearing it makes you want to down a few shots of cognac, smoke unfiltered cigarettes in a French street cafe, dance like Daisy and Donald Duck and go off and crash the stock market and start World War II. Good times.
Gypsophilia plays Thursday night at the Old Strathcona Performing Arts Centre as part of the Edmonton International Jazz Festival.
Guitarist Ross Burns – just one of three guitarists in this seven-piece, drummerless band – didn't know he was in a group called Gypsophilia until he read the program for the 2004 Halifax Jazz Festival. A former violinist had come up with the name with very short notice, and it stuck. Their first time all seven musicians appeared together was at the gig itself. Apparently organizers just threw in a spot for a Django tribute band and hoped for the best – but Gypsophilia filled the slot very nicely.
"Would never have presumed that we'd be doing shows and touring and making records," Burns says. "It was like: We have A gig! A gig at a jazz festival!"
Django fans begged them to play again. Soon there was regular work, and in a cozy but cosmopolitan hub like Halifax, there was no shortage of fans. There came one last opportunity for Gypsophilia to change its name before it was too late, and that was when they released their first album, Minor Hope.
"One possible alternative was the Hot Sextet, but we were a seven piece, so that didn't work," Burns says. "There just weren't any names that were any better, so that's why we're still Gypsophilia."
It also might be hard to be seen as "badass" with such a cute name (and Gypsophobia might send the wrong message), but that's a small annoyance compared to the "curse" mentioned before. Just as Metallica may be strangely compelled to write music that is somewhat "metallic," Gypsophilia may be a slave to its own name when it comes to branching out to any "non-gypsy" sort of music. While gypsy jazz can be fun, only true Djanjophiliacs (now there's a name) can stand to listen to more than about two minutes of the pure stuff, that relentless rink-rink-rinka-dink of the guitars without going mad.
Burns says that he and his bandmates have both "grown into" the name Gypsophilia and grown out of it.
"We realised we didn't just want to be a Hot Club tribute band," he says, referring to Django's famous Quintette du Hot Club de France he had with violinist Stephan Grappelli. "We were more interested in writing our own stuff. Straying from the roots is where you can have the most fun. What if we did a funk tune? We can do Brazilian music, Klezmer or classical music, all sorts of things that don't sound like your traditional swing tunes. We're musicians. We're easily distracted."
You have to feel sorry for jazz bands that write instrumental music. Not only do they have to come up with a name for the band, a slippery something that resists naming at the best of times, but they have to name all of their name-resistant songs, too.
"Writing an instrumental is easy," Burns says. "Naming it is the hard part."