Neon museum to light up downtown Edmonton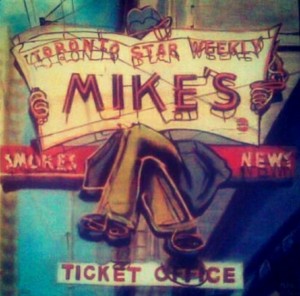 Edmonton appears close to inking a deal with Telus for use of its building on 104 Street and 104 Avenue to display the city's collection of vintage neon signs, several sources close to the project say.
Duncan Fraser, a senior planner with the city's department of sustainable development, said this week that a deal is being worked out that would see the signs repaired, then mounted on the exterior of the telephone building at 10405 104 Ave., so that they could be clearly visible right down the avenue.
The signs, which include the one for Mike's News Stand (above) that used to be on Jasper Ave. and features a man reading a newpaper while one of his crossed legs appears to swings back and forth, have been in storage at the city's Artifacts Centre in the river valley for many years.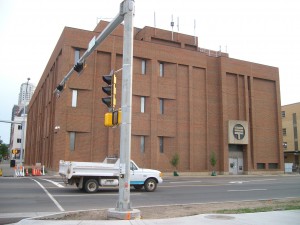 Jim Taylor, executive director of the Downtown Business Association of Edmonton, also says a deal is close for the museum to be at the telephone building at the 104 Ave. site.
"The last I've heard and the latest I've heard is that it's a done deed. But now it's between the city's lawyers and Telus' lawyers to dot the 'i's and cross the 't's," said Taylor, who notes he's been involved in the meetings for the planning of the museum for several years.
Fraser directed further questions about the project to David Holdsworth, a heritage planner with the city, while Taylor said to call Linda Wedman with Art and Design in Public Places, a multi-organization initiative that works to revitalize downtown through public and private art.
Fraser did not return phone messages from Gig City, and Wedman said Tuesday that it was too early to comment.
Chris Gerritsen, a Telus spokesman, said the brown brick building on 104 Ave. contains a mixture of equipment and offices. But he, too, was tight-lipped on the prospect of a neon sign museum at the location.
"I can't say anything to that at this point, but stay tuned," he said Tuesday.
Council has been committed to the creation of an outdoor museum to display its sign collection since it adopted the Capital City Downtown Plan last
CONTINUED…
1 2