Edmonton represented at Western Canadian Music Awards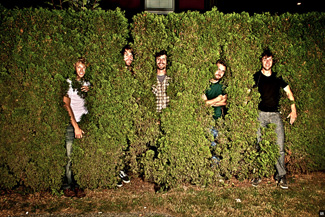 Souljah Fyah, Peter Belec, Kat Danser, Wool on Wolves (right) and Hey Romeo are just five of the local nominees for the 2011 Western Canadian Music Awards, it was announced today – the five showing the musical diversity of Edmonton in urban, jazz, blues, rock and country music, respectively.
That about covers it.
The awards will be handed out during the The BreakOut West Festival in Whitehorse, Yukon Oct. 20-23. Other Edmonton nominees include Shuyler Jansen, up for roots duo or group recording of the year, and Gord Bamford, up for country recording of the year, competing with Hey Romeo. Veteran sax player Dave Babcock was nominated for instrumental recording of the year. Country we can understand, but surprisingly, the urban category also has two local entries: reggae band Souljah Fyah and soul singer Manuela.
Local names also appear in the "industry" portion of the award nominations: Like concert promoter Nhaelan McMillan (talent buyer of the year) and the Starlite Room (live music venue of the year).
The BreakOut West Festival will feature dozens of different original recording artists performing showcases around Whitehorse throughout the Oct. 20-23 weekend, along with keynote speakers. The line-up has yet to be announced.
The Western Canadian Music Awards and conference have largely replaced the provincial music awards (Alberta hasn't had an industry awards for 10 years), and combined the Prairie Music Week and the West Coast Music Awards under the umbrella of the Western Canada Music Alliance, which was formed in 2003 to cover the recording industries of Alberta, B.C,. Saskatchewan, Manitoba and the Yukon. Plus we still have the Junos, the East Coast Music Awards, and more recently, the Edmonton Music Awards. Clear enough?
View the full nomination list here.