Children of Bodom to pummel fans with Finnish metal at the EEC
Posted on June 30, 2011 By Chad Huculak The Latest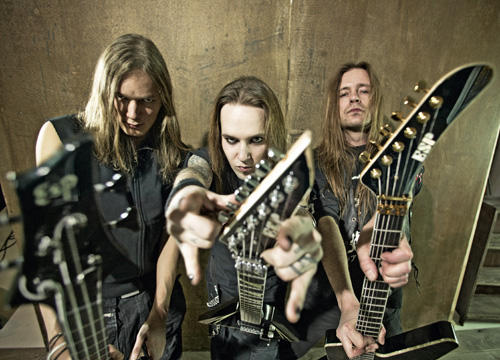 When your band starts out in a subculture that's largely shunned by the mainstream, breaking out of that scene is a mixed blessing.
The more records you sell, the more diehard fans turn against you.
Finland's extreme-metal masters Children of Bodom have heard more than their share of sellout accusations from bitter headbangers.
With their latest album Relentless Reckless Forever becoming their highest-charting American debut at No. 42 on the Billboard charts this past March, the band is making no apologies.
Children of Bodom will roll through the Edmonton Event Centre Saturday on the Ugly World Tour, featuring a stellar opening lineup including German tech-metal titans Obscura, Greek death-metalers Septicflesh, and Canadian experimental metal madman Devin Townsend.
"I would like to become big. That's the plan of doing all the tours and all of this promotion – trying to get big," says Bodom drummer Jaska Raatikainen.
"I kind of understand that people who were fans since 15 years ago think that we are not honest anymore. I think have been honest to ourselves, and the music that we do just comes out naturally. We don't (intentionally) make songs that would sell more … I think we're still the same band, even though we got more popular."
In Finland, where metal is more mainstream, Children of Bodom has charted at No. 1 with each of its last four original albums.
The band has expanded its pummeling melodic death sound over the years to include elements of industrial and hard rock music, while retaining its trademark frenetic riffing and mind-blowing dual guitar/keyboard solos.
For Raatikainen, who founded the band with guitar-hero frontman Alexi Laiho, Bodom's gradual move toward mainstream popularity on a global scale has taken on added significance of late.
Last year, the drummer became the father of a baby girl, giving him one more mouth to feed at home.
"I miss my kid all the time. But it's my job. I love that job, and I think that's good for myself and for my baby that I'm doing this," he says.
"I get money from this. This is what I like to do. And of course it's quite hard to be away from her for long periods. But when we're writing new stuff, I can be home almost 24/7. It's rewarding."
The band's 2009 cover album Skeletons in the Closet showed its biggest push toward a more accessible hard rock sound, pitting new versions of metal classics against tongue-in-cheek covers of Creedence Clearwater Revival (check out the video for Looking Out My Back Door, a parody of the 1970 CCR vid, below), Kenny Rogers and even Britney Spears.
On Relentless Reckless Forever, the quintet takes a step backward to the harsher sound of earlier albums like Hatebreeder and Follow the Reaper. The album's success suggests Bodom's popularity has grown more as a result of expert songcrafting and tireless touring than a shift in sound.
"It wasn't overnight," Raatikainen says, adding Bodom will return to Canada next year after hitting the summer festival circuit and touring Russia, Australia and South America.
"I'm ready to go as far as possible. I think everybody is dreaming of becoming the biggest band ever."