HAPPY CANADA DAY – pick your celebration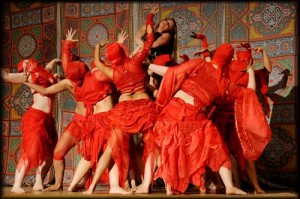 When your entire town turns into one big party and choice paralysis turns to decision exhaustion, where do you turn for guidance?
Right here, reader! It is our job as modern Internet journalists to be the proverbial "BS filters," or to at least try to distil the vast clumps of Canada Day events happening throughout Edmonton and area today and help the harried patriot choose his or her special flavour of Canadian celebration. The alternative is to curl up in a fetal position and wait for it to be over.
DOWNTOWN: The centre of the place to be. The Works Art and Design Festival features live performers in Churchill Square all day and night until the fireworks begin. Across the street there's a fountain and a petting zoo at City Hall. Free cake, too. What more can you want? Picks of the day: A real big band at 2 p.m., folk singer Ben Sures – who's probably almost finished building that giant coffee mug out of stir sticks – and the fresh retro-'50s sounds of Michael Rault at 7:30 p.m.
THE LEDGE: The variety show starts early at the Alberta Legislature Grounds. If you're there by 7 a.m. you can have free pancakes – or go on a "fun run." We dare you to do both. Don't miss the 21 gun salute at noon, the bellydancers at 1:30 (Edmonton Bellydance Ensemble, above), the flyover from a CF-86 at 2 and the heavy metal band Black Mastiff at 6 p.m. Where will all the people go when it's all over at 7 p.m. and there's still four hours to fireworks? Ask the cops assigned to "crowd control."
THE FORT: Citizens are encouraged to pledge allegiance to the king and partake of the Dominion Day Celebrations at Fort Edmonton Park. Dominion Day is what they used to call Canada Day. See, everything is old-fashioned at this vast historical theme park, including the entertainment. Vaudeville-style shows will run continuously in the Blatchford Field Air Hangar from 11 a.m. today, featuring magical trickery, ribald jests, juggling harlequins and comely strumpets engaging in titillating can-can dancing. Gentle-men are kindly requested to remove their hats.
WHYTE AVENUE: Canada Day would not be complete without the traditional Silly Summer Parade, with more than 30 different floats, each sillier than the last, and lots of silly walkers winding through Old Strathcona starting at noon and ending up at Queen Alexandra School, 7730 106 Street, for a picnic, party and free cake. Highlight attraction: Two dogs getting married. Silly!
NORTHLANDS: There's a short Canada Day thing going on here at the Northlands Infield Racetrack near the sprawling Borden Park, from noon to 4 p.m. Unspecified live entertainment is promised, along with free hot dogs, cake, pop and, perhaps best of all, parking!
OUTLYING AREAS: Sherwood Park, St, Albert, Mill Woods and the Edmonton Garrison each have Canada Day festivals of their own – no need to go "into town." Each promises free cake and live entertainment of various sorts. Our pick: A battle of the bands on St. Anne Street in St. Albert starting at 8 p.m. All three centres will have their OWN fireworks displays at 11 p.m.
EVEN MORE OUTLYING AREAS: Boonstock in Gibbons features Seether and Three Days Grace tonight, plus big noisy fun on three different stages. The Slave Lake Concert of Hope is drawing huge names to perform in support of fire victims, including Dwight Yoakam. Canada Rocks happens in Fort McMurray (KISS actually plays July 2). Probably a bunch of bush parties happening, too. Take your pick. We've done our part.