CIRQUE or SQUARE: Street performers take over Edmonton!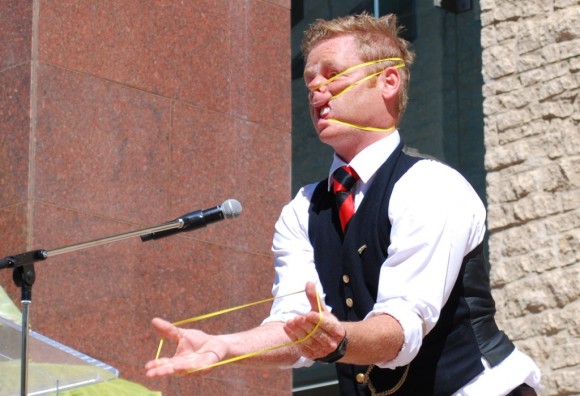 Jugglers! Tricksters! Clowns! Fools!
But enough about the Harper government – the Edmonton International Street Performers Festival opens tomorrow! By fantastic coincidence, Cirque du Soleil's Dralion plays through Sunday (July 10) at Rexall Place. This is the famous French-Canadian acrobatic circus that was started by – you guessed it – a street performer.
What are the odds? And more to the point: why would anyone pay good money to see top street performers in a hockey arena when you can see them for free in Churchill Square? The jury's out on that one.
Oop. Jury's back already – not guilty! Turns out there are enough fans of jugglers, tricksters, clowns and fools, not to mention acrobats, to go around for everybody. (And no, the street fest isn't technically free. Observers are expected to drop money in the hat after the show, as one would tip after a fine meal in a fancy restaurant – happy now, chainsaw dude?)
Verily, we are living in a golden modern age of street performing minstrelsy. Anyone with two arms can learn to juggle. One arm takes more practice. Card tricks are a quick study. Riding a unicycle is like learning to ride a bicycle – it's half as easy. Sleight of hand is a simple as misdirection. Look, up in the sky! And voila, your $20 bill has disappeared. The street fest is in fact opening up an entire tent – the big white ATB tent – for people of all ages to learn the craft of street performing. At this rate, it may not be long until street performers outnumber the fans of street performers, reaching the dreaded "Street Performer Event Horizon." Let's pray it doesn't come to that. We simply don't have enough balls to go around.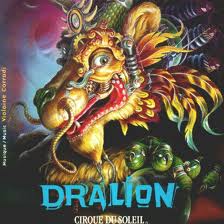 If there's been more public interest in street performers over the last couple of decades, we can thank Cirque du Soleil, which consistently attracts the finest acrobats and clowns in the world.
Street fest producer Shelly Switzer agrees, "They've shone a light on street performers."
And it wouldn't be a stretch to find someone at the festival who was once involved with Cirque du Soleil – or will be soon. Street fests like this are farm teams for Cirque, but lot of performers wind up doing both, Switzer says.
"Cirque is also very interested in what's happening at our festival," she says. "We're sharing artists, too."
There's not much to tell about the new show "Dralion" beyond its blurb: "A harmonious blend of Eastern and Western acrobatic prowess." Not much more need be said. This is of course high production street performing. Enya-like music is expected to waft forth as crazily-painted trapeze artists wind themselves around each other while hanging precariously upside-down 50 feet up in the air. Grotesque clowns are expected to leer and grimace and scare the little kids in the audience. Things are expected to happen that are completely unexpected – like the confetti hurricane at last year's Allegria show. Not to say Cirque du Soleil has become predictable, but you certainly know it when you see it.
Back in the street, well, the square, with the street performers, we have a ridiculous variety of entertainers performing 1,500 shows over 10 days from Friday until July 17. "Late night madness" shows run July 15-16 at 11 p.m. in the library theatre.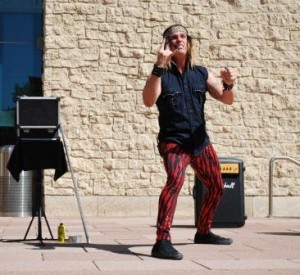 Showcased at today's media conference at City Hall were several amazing acts: Nigel Blackstorm, the heavy metal magician; the Japanese acrobatic duo Sublimit; Rubberbandboy, who holds the world record for the number of rubber bands he can stretch around his face (78); the break-dancers Rhythm Speaks; the Silly People, whose unspecified talents include comedy and yo-yos; and Jesse and Amber, who floated around the City Hall wading pool dressed as – you guessed it – clown fish.
The balloon anemones were a nice touch.