GIGGLE CITY: Ken Valgardson purges himself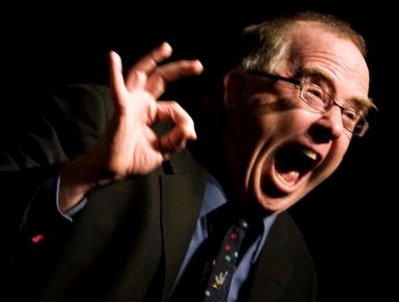 When Ken Valgardson isn't teaching Grades 6-12 in a rural Alberta school, he's hanging out in comedy clubs cutting loose with the sort of language that would get any of his students instantly expelled were they to utter such filth in the classroom.
He performs tonight through Saturday (July 7-9) at the Laugh Shop in Sherwood Park. The shows, and the following interview, are UNCENSORED. Parental discretion is advised.
Q: Do you feel have to hold back in your comedy because you're a schoolteacher?
A: My students know I'm a comedian. They understand it, they've seen it. I do corporate comedy, too. Anything I've got on the Internet is pretty clean. But at the bar shows, there are no restrictions – so that's when I usually purge myself. I'm just a filthy guy. I'm horrible. I feel like a whore. I feel like I have to take a shower after the show.
Q: What's your best heckler story?
A: I was up in Fairview, at the New Grand Hotel, the worst hotel in Alberta. The show started at 11:15 and you had to do an hour on your own. The audience just came to yell at you. So as soon as I walked on stage, a guy says, 'that's an ugly shirt.' I said, 'of course it's an ugly shirt, 'cause I'm going to tear you a new asshole and you're going to beat me up and I don't want to bleed all over a good shirt – and you people kill your doctors.' And I said that right after that doctor was murdered up there. The reaction was mixed. But they just kept shouting. That's what they do up there. They'd say something like, 'you're a cunt!' And I'd go, what? That's your heckle? They wouldn't even listen to the material. The funny thing about that is that I came back and went to my chiropractor the next day and I told the story and the girl behind the desk said, 'yeah, that's funny, but that was my uncle that got killed.' The heckle kills me the next day!
Q: Do you have a favourite joke you don't do anymore because it's stale?
A: Here's a favourite I never do. It's such a bad joke. It's terrible: Never try to get to get exotic food in Saskatchewan. I had a Greek salad in Moose Jaw. It was regular salad and they shoved it up my ass.
Q: What's the difference between kids today and when you were a kid?
A: There's a lot of lack of respect, they just roll their eyes at you. I remember if I rolled my eyes at my parents or grandma there'd be a slap across the face. Kids today are lazy, they're disrespectful, they're whiny, 'you can't touch me, I'm a young offender.' There's just no respect. It's just going downhill – fast.
Q: Which leads us nicely into the next question: Do you think you have to be a pessimist about humanity to be an effective comedian?
A: I kind of seem that way. A lot of the stuff I write seems to be pessimistic about today's world, so I'll say yes to that.
Q: This question might be moot in your case, but do you have a joke so close to being over the line that it makes you pause before bringing it out?
A: The one I love doing in the clubs that I never do at a corporate gig is when I have 18, 19 year old kids in the audience and I tell them that their parents are still screwing – just to make them squirm. Yup, I'm just an old man swearing.
Q: What's the worst meal you've had on the road?
A: Probably that Greek salad that got shoved up my ass. Ta-dum, dum. I had a bad show one night in Medicine Hat, and afterwards I turned on Letterman, and he got smacked by a guest. I thought, wow, even he has off nights. So I decided to treat myself to a great breakfast. I ordered Huevos Rancheros. And the girl said 'what?' Huevos Rancheros. And I pointed to it. She went back and said, 'somebody ordered that thing I can't say.' I heard her say that. It comes back and it was nacho chips with egg and salsa thrown on it and microwaved. I kind of picked away at it.
Q: What do you do when a fan comes up to you and tells you a joke?
A: I might say, wow, I'll have to open with that. Or maybe I'll throw the punchline out before they get to it. It's really uncomfortable when it's a racist joke.
Q: You don't think your Greek salad joke is racist?
A: Yeah, that's why I never do that one. Anyway, but most times I'll listen politely. That's their moment. I'm usually a pretty nice guy.