SOS Fest to close down Whyte for Indie band street party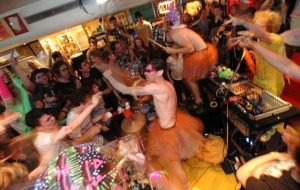 There are people who will argue that the point of any communal gathering – this Sunday's SOS Fest included – is the sense of community itself.
And let's face it – it's hard to dispute when you see a few blocks of Whyte Avenue blocked off so that folk of all ages can boogie to this crazily funky, talented string of indie acts.
But if we reduce the show to just the fun people have – kicking off at noon between 103 St. and 105 St., we're ignoring an important element in the mix, the catalyst, as it were: our appreciation for the music itself.
See, SOS Fest – along with broad elements of the recent Boonstock – demonstrates that in the era of both download theft and well-intentioned sharing, live music can survive and thrive without falling into the realm of formula. Without being commercial pop, in other words.
Don't get me wrong: lots of songs straddle the line between the two worlds, using elements of musical serialism and symmetry to appeal both to those who just dig the tune and the socializing, and those who groove on broader elements of musicality, lyricism and creativity. So it's no knock on pop as a whole to say what we all know: a fair majority of radio pop nowadays is so formulaically designed to suck dollars out of teen wallets, it might as well be a religious mantra. "Ooh baby,baby,baby" has a moderately better ring to it than "Ohhmmmm", it must be said, but to a lot of music fans, it's no more entertaining.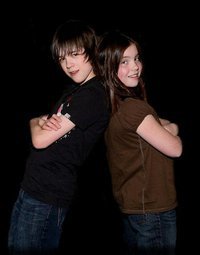 SOS and Boonstock prove that for everything crass and inclined towards commerce – no matter how well dressed up, lemmings at a high school dance are still lemmings – people young and old ARE willing support good music (even if it's the Edmonton Arts Council picking up much of the tab and not ticket sales). That they're still hot for crunching chords and cool changes, for neat little riffs with neat little hammer-on turnarounds, for big shows featuring the kind of bands that normally play clubs, for people who can rhyme but don't always feel the need, for drum breaks and heartaches, and over-saturated tube amps that accentuate the thump on the lower E.
Let's consider the lineup for a moment: local faves Wool on Wolves are "folk rock" in the same way the Blue Rodeo is "country," which is to say not really. And they happen to be multi-instrumental. Equally beloved local electronic/freakout band Gobble Gobble bring the heavy thump for the dancers and those enough brave enough to try and figure out what they're going on about; Luke and Tess Pretty are there to represent the kid prodigy/jazz prodigy/rock prodigy/ sides of the equation (catch them below in a wonderful flamenco/chanson Francais performance with the late, great Gaye Delorme, see video below); and Scenic Route to Alaska holds down the (local) singer-songwriter-drum-and-bass section.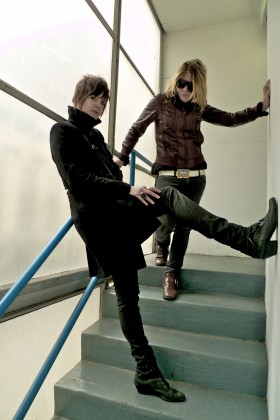 And that's just the local bands. Vancouver's The Pack AD have a disc coming out soon produced by White Stripes studio man Jim Diamond, who caught them at a Detroit gig, as Damon Sparks explains in this story. And indie darlings Peter Elkas (profiled here in the Edmonton Journal by Tom Murray) and the Heartbroken are Hogtown's critically adored entries. Little Miss Hughes, out of Saskatoon by Way of Kansas, kicks in some blues.
None of that good community spirit would exist without the independent spirit of rock and roll, an occasionally anti-social element dating back to the days of the Blackboard Jungle – but only because there are, quite frankly, plenty of elements to mindless social automatism and belief that we SHOULD be opposed to. It's pretty hard to be a humanist – and most rockers I know are – without also being a little bit anti-social. Why? It's pretty hard for a society to grow and learn without an anti-social catalyst, because all change requires conflict between the old and the new. That's the dichotomous nature of mankind. When The Who screamed "We Won't Get Fooled Again," this process was ostensibly, what they were talking about.
SOS Fest isn't just about community and the Sounds of Old Strathcona. It's also a little bit about saving our souls.
Catch the full schedule in our daily events list, at the top left of the page.