They come to praise hipsters in new web comic
Jeremy Die and Gregg Beever's new webcomic "Inglorious Hipsters" isn't like other webcomics and online sites that depict young people with ironic mustaches, tight jeans and V-neck T-shirts that display hairy chests.
That's because the Edmonton duo's comic, which launched this month, isn't about mocking hipsters.
Die and Beever admit they may even be hipsters themselves. One of them rides a single-speed bicycle. Another has a sachel. And they listen to bands like Mother Mother and Handsome Furs.
They want to celebrate hipsters, not slam them.
"I Googled 'hipsters' and I couldn't believe the venom and the hate that people have for hipsters," said Die. "I like hipsters. I like their clothes. I like their style."
"You don't see people standing up for hipsters because no on admits they are one," Beever says.
But can they really be hipsters if they're prepared to admit to it?
Ask anyone who looks suspiciously like a hipster at any of Edmonton's known hipster haunts, like the Empress Ale House, Wunderbar or Remedy Cafe, and the answer is no.
"I don't like the word. I do not like the word. Can I put that in?" says Neil Macdonald, who was sipping a beer on a picnic table outside Wunderbar with friends on Wednesday evening.
"Hating people who dress a certain way — what's the point of that?"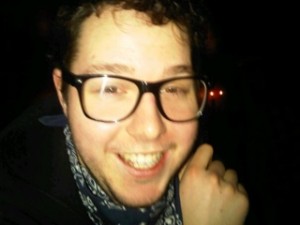 Macdonald admits he rides a fixed-gear track bike, but he says he plays bicycle polo with it and he has a caliper brake on it for safety, which he says hipsters are too stylish to do with their fixies.
He says he also doesn't wear thick-rimmed glasses with fake lenses, which is another hipster habit.
At this point a friend interrupts and says Macdonald does indeed have a pair of thick-rimmed glasses in his bag and wore them in Wunderbar one night. She even shares a picture.
Macdonald responds the glasses were a gift from this friend, and that he had been drinking quite a lot of Propeller IPA, a micro-brew from Nova Scotia, that night.
He realizes his defence isn't going well, though. Micro-brew beer is something hipsters drink. Or is it Pabst Blue Ribbon?
"Yes, people confuse me with being a hipster, but no, I am not," Macdonald insists.
Die and Beever weren't born hipsters. They grew up together in Vegreville, and as kids made their own 90s-style action-fight movies on a video recorder. As young adults, they did a webcomic called Dead-beef about three roommates who sat on the couch all day and riffed on each other.
Dead-Beef started in 2001 and ran for three years before they eventaully felt it had gone far enough. But almost as soon as they stopped, they started thinking about their next comic.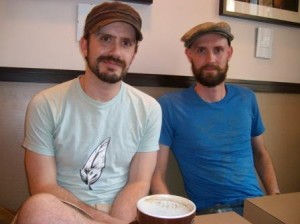 Inglorious Hipsters is set in a record store. Hipsters are stereotypically obsessed with vinyl and other antiquated technologies like typewriters and film cameras, but Die and Beever say they chose the setting because it's somewhere they always wanted to work.
Hipsters are funny, they say, because they're always going one step further in order to be innovative. At first, it was cool just to have a mustache, but then hipster guys had to get their mustaches waxed.
Now there's guys with mullets — ironic mullets. It's funny, they say, like they're taking mullets and making fun of them.
Die displays his wristwatch as an example.
"I bought this $20 Casio gold watch. It's gold-coloured, but it's only $20. I got it to be the anti-bling," he says.
The real image problem for hipsters, and perhaps the reason no one wants to admit to being one, is that they're accused of being insincere, or doing and liking things just to be trendy. Vanity is another one of their perceived faults.
Ryan Podludny, a patron at the Empress Ale House who insisted that his Scooby-Doo T-shirt was a gift from his dad and not a thrift store purchase, said he knows a lot of intelligent hipsters.
But he said he also gets the impression that some hipsters aren't free thinkers, and that they're called hipsters for a reason.
"Everyone makes fun of everyone. As long as it's lighthearted, I don't think it matters," Podludny says.
But how long will poking fun at hipsters be relevant? Will Inglorious Hipsters still make sense a year from now?
A Salon article last year, called "The End of Hipster," noted the following:
"At this point, even my sister, who lives in Edmonton, Canada, is making comments about hipsters — and trust me, Edmonton is not a very hip city."
Essentially, if a style reaches Edmonton, it's everywhere. And if it's everywhere, is it over?
Mordecai Even, who rides a single-speed bike, has thick-rimmed glasses, and was drinking Big Rock at the Empress Ale House on Wednesday, suggested hipster style is in trouble because of its popularity.
Eventually, he said, the trendsetters' desire to be unique will leave hipster fashion behind.
"Anyone can buy a fixie bike, anyone can shop at American Apparel. As soon as you can buy it, it's dead," Even said.
Die and Beever don't appear worried.
"People say rock is dead, or hip-hop is dead. But they never really die. They just fade away for a bit," Die says.
Maybe the comic will even contribute to hipster pride, they say.
Or are they just being ironic?