WHO NAMED THE BAND? Idyl Tea returns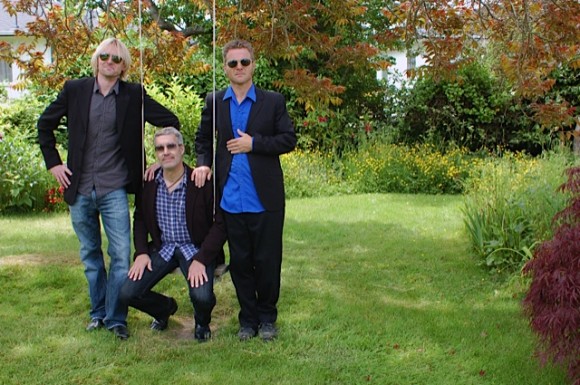 There was only one downside to a band name like Idyl Tea – no one could spell it right.
Idol T, Idle Tee, Idyll Twee, the permutations and combinations of nomenclatural mangling were numerous, if not endless, as was a low-level confusion among Canadian rock fans at the time thinking they were going to see Idle Eyes – which had that huge hit Tokyo Rose and a "most promising" Juno award in 1985 before promptly falling off the edge of the Earth. Idyl Tea, which formed the year before and lasted longer if less famously, was even once introduced as Idle Eyes in Saskatoon. The crowd was surprised, but the band members just laughed.
They were used to this sort of thing.
"When we went on the road there'd be a different spelling in every single venue," recalls singer Ev LaRoi. "It was hilarious."
Drummer Craig Metcalfe actually picked the band name from two random words in the dictionary, because they got a gig and needed a name fast, a common story. "Paisley Pinkos" was briefly considered – referring to the jangly Paisley Underground movement which influenced the musicians – but Idyl Tea won out in the end.
LeRoi puts in simply: "We liked the sound of it."
Suggesting a pleasant beverage over a Greek poem, Idyl Tea fit the zeitgeist like a velvet glove. The post-punk scene of the '80s was filled with bands sporting cryptic two-word names: Dream Syndicate, Mazzy Star, Flying Lizards, Human League, Psychedelic Furs. The "food" bands emerged in the '90s (Blind Melon, Lemonheads, Pearl Jam), paving the way for the reign of the three-word band names (Stone Temple Pilots, Our Lady Peace, Three Doors Down), the name-and-number crowd (Blink 182, Sum 41, Finger 11) which led naturally to the Age of Acronyms (STP, OLP, SOAD, LMFAO, NKOTBSB), to which one can only respond: WTF?
And we arrive in present day Edmonton – and Idyl Tea is back, cryptic, unacronymable two-word name and all. The trio returns after a 16 year hiatus with new music to play at the Artery on Saturday night (July 16).
Thank obsolete technology for this reunion. The band's old reel-to-reel- tapes representing some 60 songs were slowly disintegrating. These were made during a time when bands either made rough demos to score a record deal to make a "real" record – or they made a real record. As a result, a lot of this stuff hadn't been released and would've been lost forever. The band had just one major label album, self-titled, on the Attic label in 1990, long before "rough demos" often wound up being "real records."
LaRoi, Metcalfe and bassist Hank Engel quickly sprung into action to save the tapes, dump them to digital, drank some beer while they were at it, started to jam, might as well since they were there anyway, wrote some songs, which sounded swell, went into the studio, which sounded even better, and bada bing, we have the new double Idyl Tea CD – Song That Isn't Finished Yet (the new) and Unthology (the previously unreleased).
The title track of Song That Isn't Finished Yet is a jangly thing with the key lyric "Start all over again." Just like old times.
It wasn't hard. The break-up was the "non acrimonious" sort. After 11 years toiling for the brass ring with no real success, the guys needed to "do other things," see other people. Which they did. LeRoi became Mr. Open Stage Host for a while, following the mould made by Mike McDonald – who opens the Artery show on Saturday – who should really be the guy to blame for the mushroom-like spread of open stages around Edmonton. And they all continued to write songs on their own.
The only question remaining is if this Idyl Tea reunion if permanent or just another shameless case of a classic rock band cashing in on their former fame.
"No hope of that," laughs LaRoi. "But we're really proud of the CD and we're open to continuing."
This is good news. A rock band really is like a marriage – with one important difference: A broken-up rock band is much more likely to reconcile later.