Beer drenched, nation's biggest outdoor festival doesn't disappoint
Posted on July 13, 2011 By Chad Huculak Culture, Music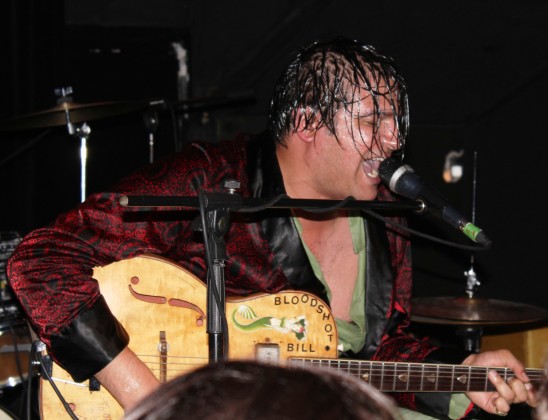 It was surreal.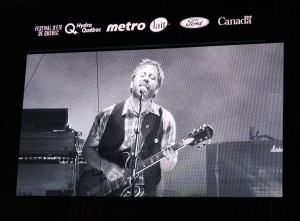 Rain had poured relentlessly through Wanda Jackson's outdoor set at a stage nestled in the heart of Quebec City last Sunday during the massive 11-day Festival D'ete.
And then, as the 73-year-old legend broke out her fiery 1958 hit Let's Have a Party, the downpour ceased almost simultaneously. Umbrellas closed one by one as the crowd, which was overflowing into the surrounding streets, erupted into a frenzy of dancing that continued as Jackson closed with Shake Baby Shake – raspy pipes still intact. Jackson, who recently stepped back into the rock game with The Party Ain't Over, a collaboration album with White Stripes main man Jack White, seemed thrilled to rock out in the rain.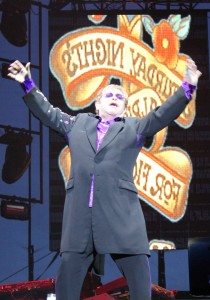 "Great sound system and the audience was very lively. They were having fun," she said. "So that way we had fun, and our having fun makes them have fun, and everybody's happy."
The pioneering female musician and Rock and Roll Hall of Famer will bring her country and rockabilly classics to the Edmonton Folk Music Festival, running Aug. 4 to 7 at Gallagher Park. You'd be well advised not to miss her, if her Festival D'ete set was any indication of what you'll see. Dreamlike moments were hard to count during four days at Canada's largest outdoor performance festival, which I dived into Friday night with a vigorous electropop set from Australia's Cut Copy.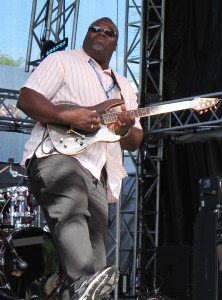 Streets flooded with a constant stream of local and visiting music fans all weekend, who traversed from one venue to the next and through the dazzling architecture of Old Quebec, encountering roving street performers along the way. Whether fans were getting pumped for Ben Harper, Metallica, or any number of mainstream and indie music acts at the festival, they were quick to pack the numerous bars and renowned restaurants as they soaked up the electric atmosphere. (FYI, the smoked duck pizza at Café D'Youville is delicious.)
The electricity was almost unbearable when Sir Elton John took to the Plains of Abraham on a serene Saturday night in front of a crowd estimated at more than 120,000. From in front of the stage, the sea of fans – many wearing red blinking lights given out with festival passes – was almost too much to wrap one's head around. When the crowd joined in for a sing-along during Crocodile Rock, it was impossible not to drop my jaw in awe.
The next night on the Plains was equally insane, as I left a set from metal band Sword and made a mad dash through the streets in a thunderstorm to catch the Black Keys rock the Plains that Elton owned the night before.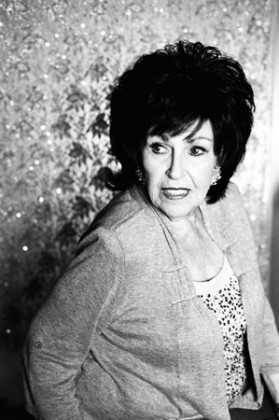 I could not have cared less that I was drenched from head to toe as I grabbed a beer and watched the Keys, who recently rocked Edmonton's Rexall Place, tear effortlessly through their bluesy rock jams to a crowd of about 50,000. Musicians weren't immune to the shock and awe.
Phil Campbell, whose band The Campbell Brothers brought its energetic gospel-with-ripping-steel-guitar tunes to Festival D'ete, had looked forward to John's performance more than any other. "We wanted to see Elton John, and we got the chance to spend some time backstage with him. That was great," Campbell said. This year was the 20-year-old American band's second time at the quickly growing festival.
"We were here in 2002 and the city's still as beautiful as we remember it," Campbell said. "This is an unbelievable festival and we're just honoured to be a part of it." 2011 was Festival D'ete's first sellout since starting in 1968.
The festival, which runs through Sunday, moved 150,000 passes at a preposterously cheap $65, and will draw in the neighbourhood of 1.5 million people.
The event is still relatively unknown outside Quebec, considering its scope is unmatched in all of Canada – if not North America – and past editions have brought names like Paul McCartney, KISS and the Black Eyed Peas. As always, though, what truly makes any music festival is the hidden gems and hard partiers rocking the smaller venues.
Here are my top three finds during my brief time at the festival:
1. CLAASS – The Montreal act started its late-night set with a throwback '80s darkwave sound that later morphed into house music and included a killer cover of OMD's Electricity.
2. Mexican Institute of Sound – The Mexican group brought a wealth of instruments to pull off its unique world-music-meets-electronica sound.If this doesn't make you dance, nothing will.
3. Bloodshot Bill – Quebec's country/rockabilly yodeler cranked up the weird factor as he viciously tore through sped-up versions of his songs handling guitar, high-hat and kick drum as a one-man band … wearing a bath robe.
Quebec City is a long trek, but Festival D'ete is well worth the trip for any diehard music lover. If you're looking for Canada's ultimate music festival, this is it.
And you could not possibly ask for a better setting to host it.
Merci beaucoup, Quebec. À plus tard.