Tragically, times change, but The Hip are forever
Posted on July 14, 2011 By LH Thomson Music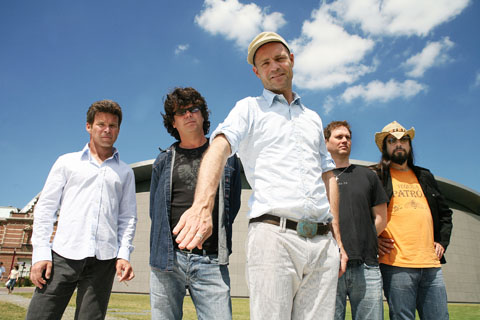 The Hip? An outdoor show in the middle of summer? Shards of memories, flitting around at the mere thought of it, of bad acid and good mushrooms, dehydration and mass hysteria.
These days, the venue will be somewhat more subdued. The Tragically Hip headlined an outdoor show at Northlands Park tonight, with Broken Social Scene and Hey Rosetta!This, in and of itself, denotes the passage of time, because there were a good many years when The Hip could book as many shows in any big Canadian city as it wanted, in the biggest venue, for three nights straight and still fill the place.
To an extent, you could even say, it was our only superband, a rock act that spoke to its generation because of how damn Canadian it was. As big here as the Guess Who, or April Wine, or Bryan Adams before them, the Hip — despite pockets of fandom worldwide – were cool because their tunes somehow spoke to Canadian life: a little more obscure or oblique, a little more sly, a little more meat on those little bones. Remember watching them live around the Road Apples time, when Gord Downie was advocating publicly for David Milgaard's wrongful conviction to be overturned? Standing with 25,000 people at Gimli Motor Speedway as Downie played and sang "Wheat Kings", lighters out proudly far and wide, it was like they'd taken the best of 10 provinces, two territories and two large beer companies and crammed it all into one mosquito-ridden corner of Heaven.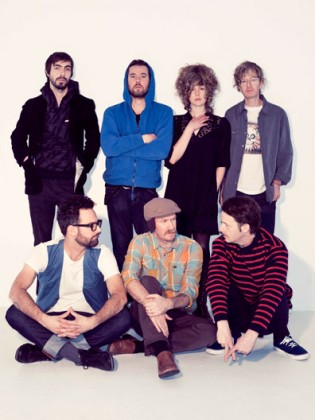 The Hip, for much of the band's career, could play anywhere. And yet the band was still so Canadian that when a friend from Kingston returned to Canada after a decade of working in South America, her astonished response to the notion the Tragically Hip is our most popular band was "What, Gord Downie? The guy who works the bar at the Kingston Red Lobster?"
Only the biggest bands could get Canadians to put up with the hell that is the outdoor show, and did so repeatedly with a series of Another Roadside Attraction dates at rural venues across the country.
Camrose in '97 was a particular kind of scorched-Earth madness, with two-hour car lines to get in, water that ran out in the 100-degree cattle pen staging area, and unpoliced camping areas where the violence, partying and general absence of volume control raged until about 5 a.m. – as if trying to sleep after eating that number of mushrooms was ever going to be possible.
No, instead it was three hours of hideous man-beast howling as the hoots and hollers from the campground were transformed, via the miracle of aural hallucination, into nothing short of animals in blood lust. Meanwhile, the camp spot was on uneven ground and guy ropes would not co-operate, leading to a collapsing tent roof that, unfortunately, also made for a great moisture collection trap. Wetness ensued, followed by breakfast at Denny's in Edmonton at 7 a.m. Then I slept for 19 hours.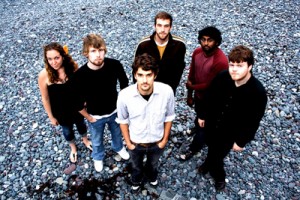 Of course, before then, there was a great show from Wilco, and a great show from Ashley MacIsaac, and a great show from Sheryl Crow – and a transcendent communal bounce when The Hip hit the stage, with 40,000 20- and 30-something Canuckleheads bouncing under the stars to the thump of the band and a blue strobe light. "It'd be better for us if you don't understand," Gord intoned. None of us had a fucking clue what he was talking about, but it somehow made a magnificent sort of sense.
But ….there are no gonzo shenanigans at this one, no crowd diving, just a little casual surfing — tsk'd tsk'd by Downie for the possibility that the heavyset one would hurt someone. The Hip have passed youth by; while the band still has young fans, it is no longer a young people's band, and for every "So Hard Done By" or "Nautical Disaster" that gets the oldsters singing along, a decade of less memorable (but doubtless artistically satisfying) material will bring things back to Earth like so much leaden adulthood, before anyone jumps off the stage, or gets soaked down with a firehose, or eats enough mushrooms to trip balls though a Killer Whale Tank version of New Orleans is Sinking.
The Tragically Hip are now perhaps, tragically, unhip. It had to happen eventually.
The band hasn't jumped the shark, because that would imply some pathetic stab at proof of manhood or coolness via a gimmicky episode (thing that prove it's sometimes tragic to be hip in the first place). Instead, a piece of Canada's national rock identity, as with Rush and Neil Young before it, has passed into venerated maturity, while a generation so much dumber than its parents… well, it has moved on to something new.