The two-dimensional benefits of Warhol's soup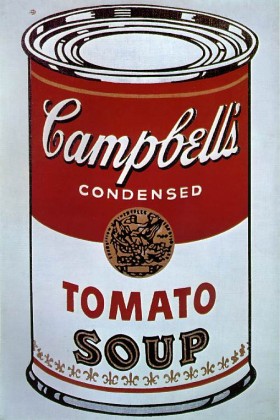 Today, we pose a question for debate and discussion: Is Andy Warhol's influence as an artist  as important as the impact his most famous work has had combatting hunger?
Warhol understood fame is fleeting, no matter who you are. Like Alvin Tofler and other influential people of his era, anonymity is the eventual reality for all in a time when information transfer is instant. Too many stars, too many statements, too many scandals. The social adoption of a good idea will long outlive its proper attribution.
But Warhol's emblematic can of Campbell's Tomato Soup has had what was likely an unexpected impact: it's occasionally used as the prop for food drives. And one food drive, in a city the size of Edmonton, is an important thing. Everyone from kids' fundraisers to cracker companies have used Warhol's pop art depiction as inspiration to bring community together.
The latest edition has a neat twist: The Art Gallery of Alberta is building a soup-can statue, using cans donated by the public, which will then be given to the Edmonton Food Bank. It's a great way for people to embue art with shared sentiment and help people down on their luck at the same time.
It's a nod to the AGA's larger Warhol exhibit, and part of this weekend's edition of All Day Sunday, focussing on Sara Fuller's My Banff show.
Says the gallery. "AGA Educators will help guests create their own 3D models of Edmonton using found objects, model magic and photos from Edmonton 's past and present. Visitors will be encouraged to contribute stories and memories of our great city to an interactive digital mapping project. Tours of current exhibitions with AGA Interpretive Staff will also be offered."
The events run from noon to 4 p.m. are free with regular admission.