Avril Lavigne plays Edmonton's Rexall Place Oct. 10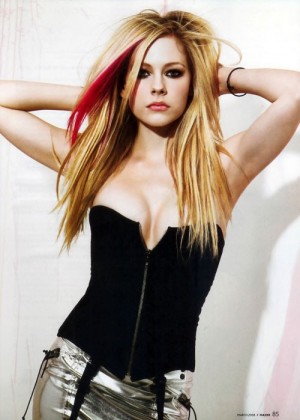 She was, indeed, a Sk8tr girl. Then some dude in Hollywood gave her a record deal.
Now, she's an aging pop princess from Ottawa. Will fans keep supporting Avril Lavigne? She plays Rexall Place Oct. 10 with openers yet to be announced.
Hmmm…. time will tell. It's the great unknowable, whether a young artist will translate that success as they age. You have to figure Lavigne's chances are better than most, given that she came up as a singer-songwriter who was later moulded into a pop phenom….not the other way around. There's nothing more embarassing than a former kid star who tries to go deep.
Will Goodbye Lullaby, released earlier this year, get her back on top? Doesn't seem like it so far. But a tour never hurts.
In 2002, Lavigne shot to global pop stardom with the 6x-platinum Let Go, followed by 2004's 3x-platinum Under My Skin, and 2007's platinum The Best Damn Thing. Over the course of her three albums, Lavigne scored a string of international hit singles: "Complicated," "Sk8er Boi," "I'm With You," "Losing Grip," "Don't Tell Me," "My Happy Ending," "Nobody's Home," "Keep Holding On," "Girlfriend," "When You're Gone," "Hot," and "The Best Damn Thing." She earned eight Grammy Award nominations, won seven Canadian Juno Awards, and sold more than 30 million albums and nearly 20 million tracks worldwide over the past eight years.
Lavigne also launched a second career as an entrepreneur by creating a fashion and lifestyle brand (Abbey Dawn), two fragrances (Black Star and Forbidden Rose), branched out into film work (Over the Hedge, Fast Food Nation), and established The Avril Lavigne Foundation, which works in partnership with leading charitable organizations to design and deliver programs, raise awareness, and mobilize support for children and youth living with serious illnesses or disabilities.
Tickets go on sale via Ticketmaster on Friday morning at 10 a.m.