Scalping tickets legal in Alberta, government has no plans to stop resales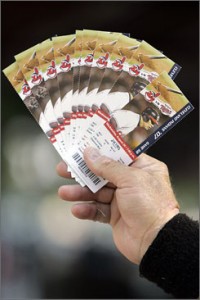 Two years ago a firestorm erupted in the concert ticket business when complaints alleged that Ticketmaster, which had recently purchased the online ticket reselling business TicketsNow, was automatically diverting customers from its own website to the scalping one.
The outrage over the perceived conflict of interest grew so loud that new legislation was drafted in Saskatchewan which took effect last month, as well as in Ontario, where a new law was proclaimed in December.
But here in Alberta, where a case of overpayment for a Charley Pride concert in Edmonton in 2009 angered the country music legend so much that he personally visited the fan to refund her money, the provincial government has opted to let the industry sort out the problem.
In Alberta, laws prohibiting scalping were contained in the Amusements Act. But the Act was was repealed several years ago and hasn't been replaced.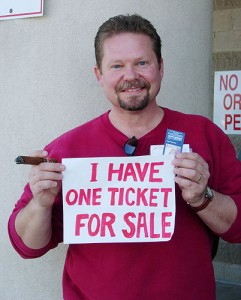 "As minister of Service Alberta, it's not my job to to tell Albertans what they should be paying for tickets," Heather Klimchuk told the legislature during Question Period on Nov. 26, 2009.
Klimchuk noted at the time the ticket industry itself was responding to the issue by introducing "paperless" tickets. Such tickets require the purchaser to produce a driver's license, credit card, or scannable image from a cellphone at the gate, with the intention of cutting scalpers out of the picture because there is no ticket to sell.
She also suggested it was the responsibility of consumers to make sure they were buying from legitimate sellers.
While the rage over ticket resellers reached a boiling point in 2009, the simmering in Saskatchewan began a year earlier according to a discussion paper that was produced by the province's justice ministry and its attorney general.
In the summer of 2008, Elton John scheduled three performances in Saskatchewan, which the discussion paper astutely noted was "a rarity" for the province. Unfortunately for fans, the shows sold out in just six minutes and the authors of the paper allege Ticketmaster provided them with a link to TicketsNow where tickets were already on sale for well above face value.
The story was the same for an Eagles concert in Saskatoon in November 2008, although that show took almost twice as long — 11 minutes — to sell out.
Then hell broke loose. In 2009, the attorney general of New Jersey investigated when Ticketmaster diverted Bruce Springsteen fans to the TicketsNow site, prompting Ticketmaster to take down the link. The company also reportedly paid New Jersey $350,000 for the cost of the investigation and compensated the disgruntled fans.
And in Leduc, 58-year-old Jacqueline Sharp paid over $1200 for a pair of tickets to a Charley Pride performance in Edmonton which she bought from an online ticket reseller. Pride flew from Dallas to Edmonton to reimburse Sharp and gave her free front-row tickets to his show.
Ticketmaster said earlier that year that the way it sold tickets was fair and legal.
The situation is a recipe for ticket resale ripoffs, according to the Opposition Liberals.
"Alberta has a reputation of not protecting consumers. We've seen it in the issue of condominiums," says Alberta Liberal Darshan Kang, referring to a recently-built condominium complex in Fort McMurray that was condemned due to structural concerns earlier this year.
Kang, who is the MLA for Calgary-McCall and is Opposition critic for Service Alberta, says the province needs to be a leader in the field, instead of perpetually being among the last among provinces to adopt new laws.
The Ticket Sales Act in Saskatchewan now prohibits ticket sellers like Ticketmaster from having links to resellers on their websites. Ticket sellers are also forbidden from selling outside a region consisting of Saskatchewan and the surrounding provinces and states for the first hour after tickets go on sale in order to make sure local fans get the first crack at purchases.
Software that automatically buys tickets is outlawed. But in a curiously Saskatchewan twist, the regulations provide an exemption for the Saskatchewan Roughriders from the Act. Ontario's new Ticket Speculation Amendment Act specifically prohibits ticket sales companies from diverting tickets to a related seller.
Service Alberta?  Spokesman Mike Berezowsky says there are no plans for ticket reseller legislation in Alberta.
He says the department's consumer protection branch received only 19 complaints from consumers about ticket resellers in 2009. That dropped to 15 in 2010, and there have been just two so far this year.
"If we were going to put in regulations, we would want to make sure we could enforce them," Berezowsky also notes.
Kang, however, says the scalping issue may have gone into remission because of all the negative publicity. But that's no guarantee it won't happen again.
"Maybe it scared the hell out of everybody and they smartened up a bit," Kang says. "But that is not a solution. It will spring up again."
A spokeswoman for LiveNation, the parent company for Ticketmaster, told Gig City early last week that it would attempt to provide someone to comment on ticket reselling legislation, as well as the steps it has taken to combat the problem of scalpers, but did had not done so at publication.
Kang argues Alberta may have been able to find ways to enforce laws if it bothered to investigate the issue. He also notes that counting on paperless tickets as a solution raises other consumer protection issues.
The system has only been used for a limited number of shows, and some people don't like them because of the difficulty involved for people who want to sell, or even give away, their tickets if they are unable to attend a performance.
"Some of the people have legitimate reasons for exchanging tickets," Kang says.
As for Sharp, the lady who got the special visit from Charley Pride, she says she hasn't followed the issue much and prefers to leave commenting on such things to her son.
Speaking from her home in Leduc, Sharp says she's seen Pride in concert again since the debacle in 2009, but chose to buy her tickets in person from a Ticketmaster outlet.
"It put me right off computers, that's for sure," Sharp says of the ordeal.